You can't overstate the importance of air conditioning. Having air conditioning that works when you need it to work is important for homes and businesses alike. No one wants to have to sit through a hot, sticky summer. They certainly don't want to have to do that while they're trying to be productive. When all you can think about is how hot you are, it's incredibly difficult to focus on your job. That's where we come in. With our commercial AC repair, we can make sure that everyone who comes to your business feels comfortable.
Commercial AC Mending for Workers
There have been countless studies about how much air conditioning helps workers to be more productive. Of course, you don't need to read a study to do that, you just need to follow regular common sense. You can even think of your own body: sure, there's nothing wrong with being a bit warm, but that's quite different from being hot. It's something else entirely from having to deal with an entire day's work when it's 110 degrees outside. Air conditioners can help your employees to focus and get done what they need to do.
That being said, you don't want to run your air conditioners too low. It makes sense to have them going strong, turned to some of the coldest temperatures on a day when the temperature outside is well over 100 degrees. However, if you have them too low, that can adversely affect your workers; productivity, too. If the temperatures are too low, some people won't feel comfortable when they're working, and it can be just as difficult for them to be productive (if not more so) than if there was no air condition at all. The keyword here, of course, is "comfortable." You want to have the air conditioning set to a level where everyone is comfortable, where they can work their best. We have many different kinds of AC units that can be adjusted until you find the level that works for your office.
AC for Clients and Customers
At Air Pro Master, we can help you to get the air conditioning you need for anyone who might come through your office. That means your workers and employees, yes. But, it also means clients, investors, and others, too. When you have an office or a storefront, you want it to be a place that people want to go to, the kind of place where they feel comfortable. Air conditioning can go a long way towards that. After all, we've all been somewhere that doesn't have air conditioning on a very hot day. Whenever that does arise, the store owner (or an employee) always has to explain why they don't have air conditioning. To avoid that awkward conversation (among other reasons) it's always good to have air conditioning.
It also shows your company in its best light. Investors and clients, in all likelihood, have options as to where they'll go. Having air conditioning is a great way to show that your company is highly professional. It shows the seriousness of your company, and how well you take care of your employees. Everything we said in this paragraph about "investors and clients" can be said about customers as well. This can be even more important if you have the kind of business where customers walk into your physical location. Should you lack air conditioning, or even air conditioning that works at a high level, then they will probably take their business elsewhere. Air conditioning can help your business in so many different ways.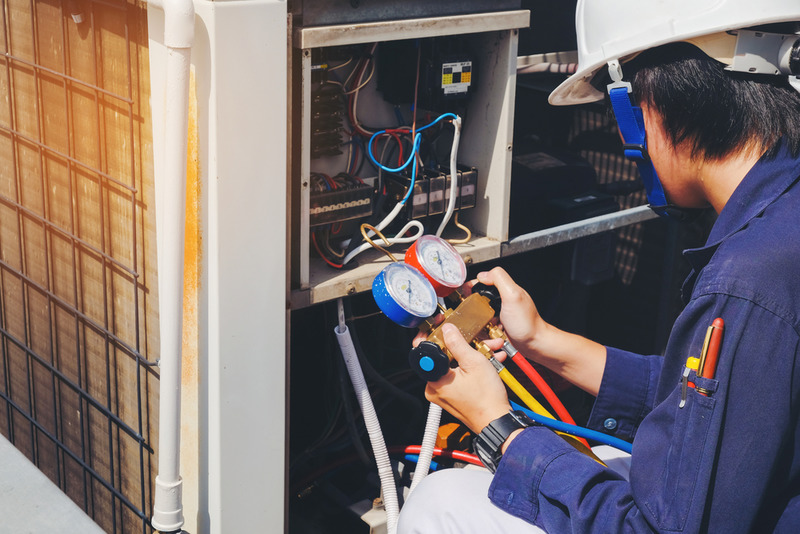 Commercial AC Professionals
When you decide to get air conditioning for your business, or you're looking to improve the air conditioning for your business, you want to go with someone who's worked in that field before. We have years of experience in installing, maintaining and replacing air conditioning units for businesses all around the city. Commercial air conditioning is quite a bit different than residential air conditioning, so it's important to choose a company with the right experience.
Often, you'll see companies that say they have extensive "commercial air conditioning experience" but really, they have mostly residential air conditioning experience and perhaps a bit of putting air conditioning units into smaller businesses. The truth is that commercial units are much different: they're larger and far more complicated. On top of that, they're also quite sensitive: that's why it's so crucial to have someone with experience on these units from the very beginning.
The installation plays a large part in an air conditioning unit's longevity. Even the best air conditioning unit, installed improperly or less than optimally, can go bad or stop working long before it should. At Air Pro Master, we've installed so many different kinds of units in different kinds of locations over the years. So, we know how to put an AC unit into your building that will work there for a very long time. Yes, emergencies and accidents happen, but when you bring in our technicians to install your AC unit, you're giving yourself a better opportunity to have an AC unit that stands the test of time.
AC Units for Your Business
Our experience can help our clients in a variety of ways. For example, it helps to find the right AC unit for essentially any business. While many of our commercial clients have stores and retail locations that are simple architecturally, with only a few rooms (even though some of them are quite large) many of our clients are not. They have uniquely shaped buildings, or many different rooms, each of which requires an air conditioning solution.
We can find and devise an air conditioning solution for you that fits your specific needs for your location. That way, you can rest assured that you're getting good, quality air conditioning to each of the different parts of your building. Instead of just going with some haphazard, one size fits all design, we can help you to have the kind of air conditioning that makes sure each room gets the air conditioning that it should have. This makes for a better overall commercial experience for each of our clients, as well as anyone who goes into their buildings.
Of course, we can help you with HVAC units as well. Sure, it may not feel like it when the temperature is over 110 degrees outside, but winter will eventually be here. The temperatures will drop, and you will need a heater. We can help you with that, as well. Our heating units will make sure that your employees, clients, customers and anyone else who comes through will be just as comfortable in December (due to the heat) as they are in July (due to the air conditioning). Our HVAC solutions can be made to fit your company.
When we say "made to fit your company," we mean "made to fit your company's budget" too. We know that every company may not have an endless budget to spend on air conditioning. That's why we have so many different kinds of units available at different price points. We can look at your location and your needs, and then we'll provide you with each of the different units that might fit your building and your budget. From there, with that information, you can make the best decision for your company.
Should anything ever occur with your air conditioning, our repair experts can be there quickly. In fact, we're always available, at any time, day or night. That way, you never have to go without air conditioning or heat when you need them. Just give us a call at (702) 598-4174.