Food. Water. Shelter. Air conditioning. OK, so "air conditioning" isn't exactly one of the basic human needs, but during the spring and summer in the Las Vegas area, it might as well be. Going through the summer without air conditioning makes it extremely hard to be comfortable, much less enjoy yourself. That's to say nothing of trying to be productive or work, which is hard to do when you're sweating profusely due to the heat. Here at Air Pro Master, we offer a 24 hour air conditioning service for summer, spring and every other day when it's hot in the desert.
True 24 Hour AC Service
To be clear, at Air Pro Master, we offer a true 24 hour air conditioning service. This is not one of those services that say "we're available 24 hours" and then when you call, you get someone on the phone who says: "thank you! We've taken your information and we'll be with you first thing in the morning." No, we always have people here who are always available. Indeed, when you call here, at any time of day or night, you'll get a real person to talk to as well. You won't get someone clear on the other side of the planet. You'll talk to one of our experts who live in and around the city, just like you.
Getting AC Right
It's important to note that we're also part of the community. We drive on the same streets, we go to the same supermarkets, we thought that major penalty in Game 7 against the Sharks was terrible too. So, we know what the spring and summer can be like around here when you don't have air conditioning. We don't want anyone to go through that. When we come to your property, we don't leave until we have a solution for making sure that you get the air conditioning that you desire.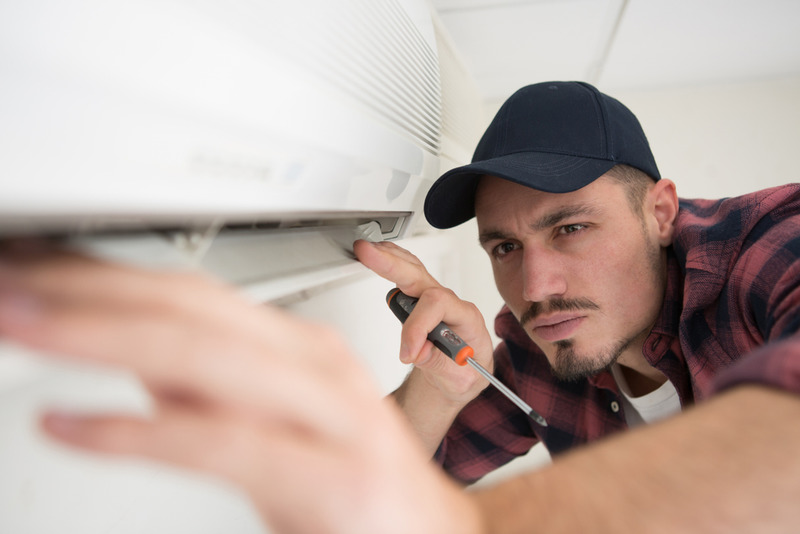 The Spring Tune Up
As of this writing, we have a special offer for your air conditioning. The "$29.00 Spring Tune Up" is a great way to get your air conditioning ready for summer. No one wants their air conditioning to break down in the summer months. No one wants to have to suffer through that. Of course, after this past winter, you probably didn't use your air conditioning a whole lot during the winter. So, your air conditioner might not be in its best shape before the long summer arrives.
That's where this Spring Tune Up comes in. For just $29, we'll come by and look at your air conditioner. We'll check it out completely. This is a "tune up" as much as it's an "evaluation." We'll figure out how your air conditioner is doing and make some changes that can help it to run as efficiently as possible. If there are any potential problems on the horizon, we'll let you know. That way, we can potentially head them off before they become worse in the hottest months.
As we mentioned, the Spring Tune Up is available as of this writing. There's always some new promotion or deal that we're offering to our customers. We want to be able to help as many people as possible to get the air conditioning that they want. Check our site often to see the newest deals, so that you can get your air conditioning for less.
24 Hours on Time
It's one thing to have air conditioning service that's always available, 24/7. What sets our air conditioning service apart is that in addition to that, we're always on time. Sure, some companies may tell you that they're always available, but if they get there hours after you told them what your problem is, that's not exactly "prompt service." Here at Air Pro Master, our pro techs are able to get to where you are as quickly as possible. From the moment you call in with your problem, we do everything we can to make sure that we get out to you as soon as possible.
The Spring Tune Up is just the beginning of what we can do for your air conditioning. We don't just provide air conditioning to homes; we can put air conditioning in commercial properties, too. That way, your place of business can feel comfortable and cool to anyone who comes through the door on any day of the year. Once we've found a solution to your air conditioning problem, we don't just bail on you. We offer long-term warranties and maintenance plans. That way, we can help your air conditioning to head off any potential catastrophes in the future. When you need air conditioning, you need it now. For 24 hour help, call us at (702) 901-0900.