When you need an AC replacement, turn to the professionals. At Air Pro Master, we've been installing air conditioners for more than 13 years. In that time, we've put in so many air conditioners that are still going strong to this day. When the Las Vegas sun bears down on you in July, anything less than the best air conditioner won't do. We can help you to find the right air conditioner for your needs, whether you're looking for AC for a home or place of business. Then, we can provide repairs and maintenance. We do all of this for low, reasonable costs.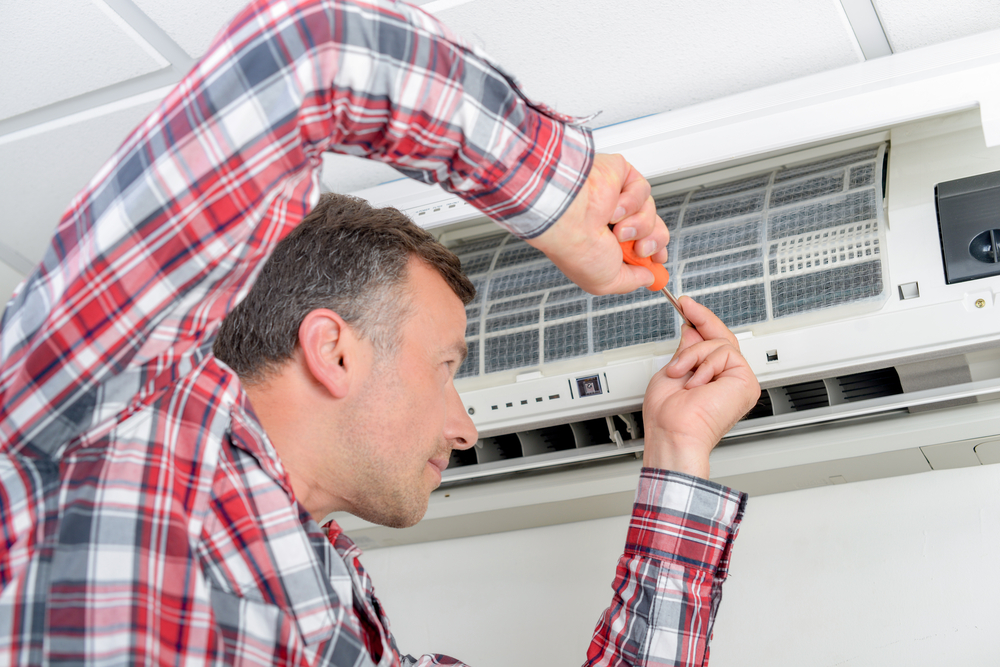 AC Replacement and Installation
In Vegas, everyone needs air conditioning. "Toughing it out" is can harm you, your family, or those that depend on you. Air conditioner prices have dropped quite a bit, too. Today's models are more energy-efficient than ever before. That means that not only will you get air conditioning, but you'll also get it for less than you might have in the past. We have plenty of "green" models that help the environment as well as your home or place of business. Every building has different air conditioner needs. It might seem like air conditioners are all the same, but they really aren't. What works in one scenario won't in another. The last thing you want is an air conditioner that's of top quality but not the right fit for your home or place of business. So, before we install your air conditioner, we figure out what your air conditioner needs are. That means that our Air Pro Master experts come to your building, and then perform a thorough, comprehensive evaluation. This evaluation takes everything into account: we go all through the location while also talking to you about what you're looking for. This is one more area where our experience truly comes in handy. In the decade-plus that we've been doing this, we've installed quite a few air conditioners. We've definitely installed them successfully in buildings like yours. So now, we can put that experience to work for you. We can give your building the perfect air conditioner fit that it needs. Some factors that weigh heavily in air conditioning that people may not realize: number of rooms. The rooms in your location, whether it's residential or commercial, factor greatly into what kind of air conditioning you should have. The same goes for the layout and dimensions of the building as well. The good news is, no matter the dimensions, layout and more of your building, we have an air conditioner solution that will give your building exactly what it needs. Once our evaluation is done, we present you with options. We try to give as many options as possible. To be clear, our options for air conditioners take into account quality as well as budget. We know that not everyone has as much to spend on air conditioning as they might like. So, we have AC units at different price points available. You can get air conditioning for the price that you want. With so many financing options involved, we make sure that you get an air conditioner that you can afford. We believe that everyone who wants air conditioning should be able to get it. In the Vegas area, particularly in the summer, a lack of air conditioning is a genuine health hazard that no one should have to put up with. Instead of exposing yourself to that kind of risk, we have air conditioners that fit your budget as well as your lifestyle, business and everything else. Yes, there are unscrupulous companies that will sell you more air conditioners than you need. We aren't one of them. We don't try to "upsell you" on air conditioners, we give you one that fits everything that you're looking for. The air conditioner for a small diner is going to be a lot different than those for a warehouse in the middle of the desert. They shouldn't have the same air conditioner. The same goes for single-family homes versus spacious estates. We offer you all of the air conditioners that you need without pitching you on a lot of stuff that you don't need.
AC Installation
Once you've picked the air conditioner, then it's time to get it installed. This is the most crucial part of the process than some people might realize. If your air conditioner is improperly installed, then the odds are that it won't be as effective as you would like. Moreover, it's also more likely to need more maintenance far more quickly than it would otherwise. Again, here is another area where our experience can be so beneficial. Drawing upon our years of experience in installing air conditioners, we can make sure that your air conditioner is put in the right way, ensuring it can stand the test of time. After the air conditioner is installed, we don't just flee, leaving you to your own devices. No, we lay out everything you can do to ensure that your air conditioner runs properly. This isn't just "we hand you a pamphlet and run," rather we can explain to you ways of taking care of your air conditioner so that it runs how you want it to run. These aren't very difficult, time-intensive activities. We understand that you've just purchased an air conditioner and had it installed, you're not applying to work professionally on air conditioners. But, we give you some simple, down to Earth tips about helping your air conditioner work as it can. During this part of the process, we also offer our maintenance terms as well. Even a well-installed air conditioner is going to need maintenance eventually. That isn't because it will break down, but rather to catch potential problems before they get worse. Getting consistent maintenance is a great way to make your air conditioner last longer and to deal with far fewer air conditioner emergencies. Yes, we can be there for you any time, day or night for any kind of emergency. But, it's better to get maintenance and keep emergencies from happening in the first place. As you may have noticed from reading this far, we like to offer our customers as many options as possible in terms of air conditioner units, financing, and more. The same goes for our maintenance. You can get maintenance once a year, once every six months, or we can even work out other terms. No one wants to have their air conditioner unit break down on them in the middle of August. By getting maintenance, we can do quite a bit to keep that from happening.
What You Can Expect from Air Pro Master
We always make sure to give our customers comprehensive estimates. Hidden fees, surprise fees – we don't do any of that. Instead of blindsiding you at the end of the process to try and squeeze a few more bucks out of you, we tell you what it's going to cost and then stick to it. Additionally, we offer same-day service as well. When you need air conditioning, you need air conditioning. You shouldn't have to wait around forever for your AC Company to get there, so we make sure to get where when we say we're going to get there. Then, we arrive ready to work, too. That way, you can get your new system to run as quickly as possible without delay. Air Pro Master only hires the best air conditioner experts. If you see them with their uniform on your property, it means they passed through all of our tests so that they're qualified to offer you air conditioning solutions. If you're looking for a new air conditioner, or have questions about yours, feel free to give us a call any time at.