For over 18 years, Air Pro Master has been one of the leading AC companies in Las Vegas for residential AC equipment, and HVAC service. We give our customers only dependable HVAC service. Our company is built on honesty, we strive for only high-quality service. That's why we call ourselves one of the best air conditioning companies in Las Vegas. We will give you the right solutions for your specific ac problem and you will get prompt, friendly, trusted, and professional services.
It doesn't matter what AC repair services you require, household HVAC repair or commercial HVAC repair, heating services, other AC problems, or even emergency repairs, we will handle all of them at a fair cost! You will be satisfied with outstanding work and unparalleled customer service. Give us a call at (702) 935-1540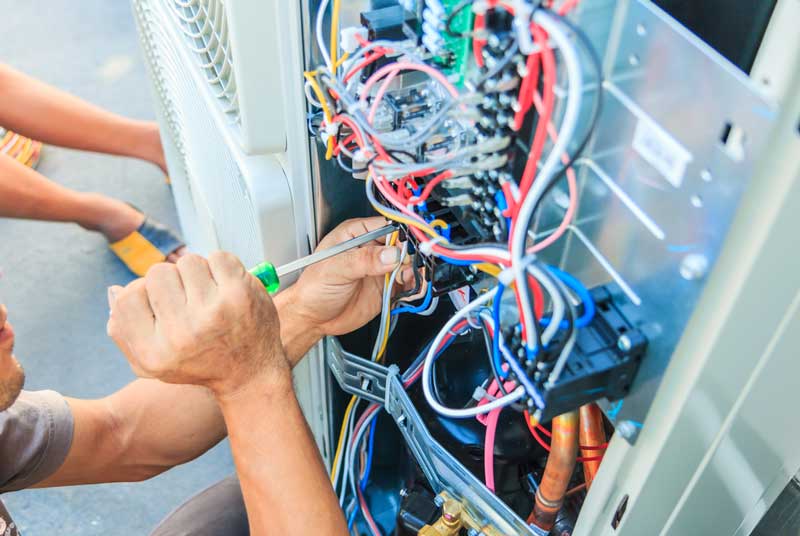 The Importance of AC Repairs
When your AC breaks down there's no time to waste.
Our professionals can be there promptly to figure out precisely what the problem is. From there, we can go about setting it right.
When we discover what the problem is, we'll let you know.
We've Got a Service to Meet Your Needs
Then, we'll lay out your various options. From there, we can work with you to ensure we find the best one for your building as well as your budget.
Each of our technicians meets the highest standards in the industry: our own. Before they begin servicing our clients, they've proven to us that they can get the job done every time.
There's never a "good" time for your air conditioning to break down and need an emergency repair.  However, if your unit is broken or is blowing hot air, we're available to send a tech your way 24/7.
What Makes Air Conditioner So Important
Air conditioners serve many purposes and benefits in households and companies, especially during hot weather. Having one at home or in the office keeps everyone safe by preventing heat stroke, improving indoor air quality, prevents overheating of electronic devices and appliances.
Let's be honest air conditioners are very important during the hot summer days and it's not fun living without one that's functioning at its best!
Better Living In Las Vegas, NV
An air conditioning system can make it so that you can function, feel comfortable, and thrive.
Yes, there are steps you can try to take to get around not having high indoor air quality conditioning. That said, they're far less manageable than simply having air conditioners that you can trust.
Instead of having to hope that your air conditioners work as you would like, or believing that your AC repair service can make it through one more summer, go with air conditioner repair that you can trust. We can even fix your furnace. But if your furnace is too old and needs many repairs, it may be time to install a new furnace. It will cut the cost in the long run.
AC Tune-up
Sometimes, the only "repair" your air conditioner need is a tune-up.
Our "tune-up" is very different from our repair. For the most part, a "tune-up" is the right course of action not when your system stops working but rather when the seasons change and you'd like to make sure that your unit is ready for summer.
For example, so many of our clients call us for a tune-up when around April/May to turn on the cooling portion and make sure it is functioning properly.
We've also had customers call us for a tune-up when their system starts making odd noises, stops producing steady airflow, or even emits a strange smell.
Each of those problems needs to be addressed. That said, those particular problems can often be prevented by a timely tune-up.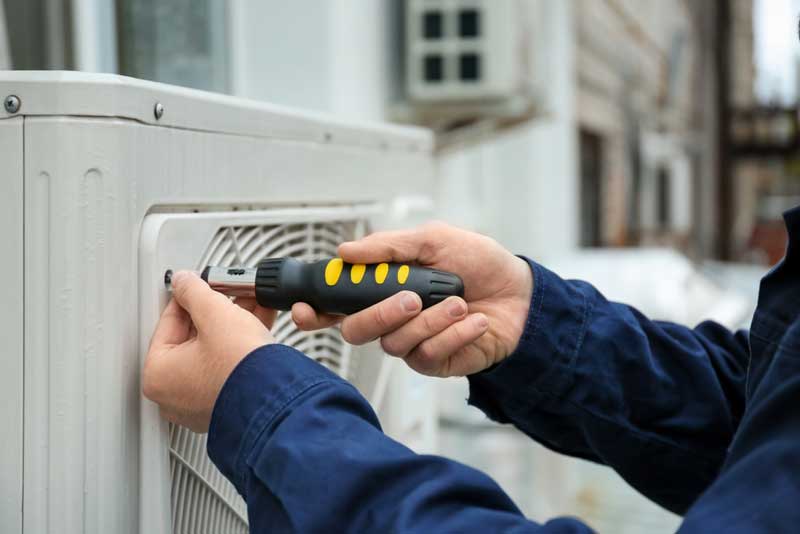 More Than A Repair Company - Installation, Replacement, Solutions & More
A tune-up, for the most part, consists of several different facets of your HVAC being checked by one of our professionals.
That means our technician will thoroughly examine the air ducts and ductwork, blower motor performance, and more. By tightening the electrical connections and lubricating the moving parts, we've been able to help so many folks to get that much more out of their HVAC. Then, it's just about cleaning the condenser coils and making sure the thermostat is calibrated properly, and your unit will be tuned up.  So many of our "tune-ups" actually find potentially serious problems with your unit and then we "nip them in the bud," so to speak.  Beyond that, our maintenance can actually save you money.  So many air conditioners in the Las Vegas area are actually a bit dated. With proper maintenance, we can improve its energy efficiency so that you're saving money throughout the years.
Professionally Trained A/C Repair Experts
You can't trust the installation and repair of air conditioners to just anyone. Certainly not in our area. Having a professional team that you can rely on no matter what is vital.
"Blowing cold air" is just the beginning of what the system should be able to do for you.  The truth is that, in the end, air conditioning systems are essential services.
Instead of trusting your unit to someone else, you're trusting them to technicians who know exactly what they're doing. Our technician team can provide the sort of repairs and maintenance, replacement, and cooling, that our customers have come to rely on for many years.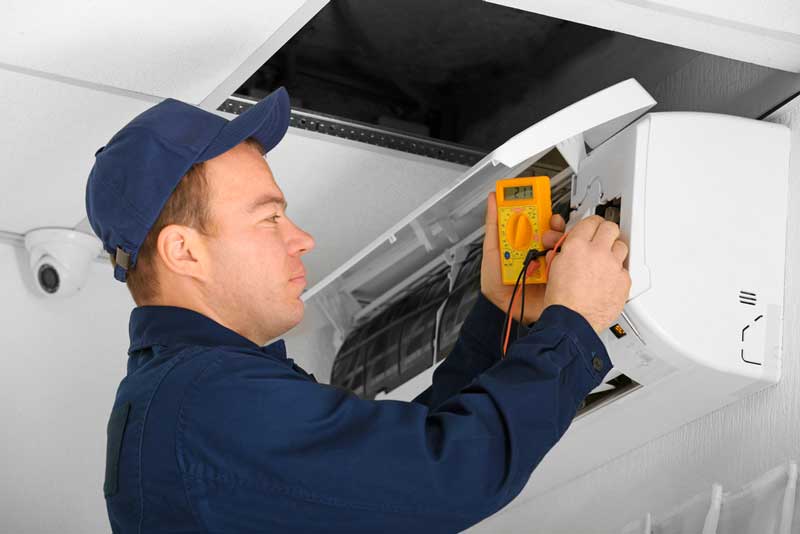 Trusted Installations and Replacements
Should it be time to get replacements, with professionalism, our team of technicians can help you to find the right brands of heater and cooling systems for your house, business, or anywhere else. That way, you don't have to worry about emergencies because we are always ready to serve and perform the best customer service to everyone.
There are many reasons that the Las Vegas community has relied on us for their indoor air quality services over a long period of time.
We've helped with so many with their AC repairs & system improvements for almost 2 decades.
Our town may be all about gambling, sure, but the last thing anyone wants to gamble with is their AC system.
A/C Service Solutions You Can Trust
Whether you're in Las Vegas, Henderson, North Las Vegas, Spring Valley, Summerlin, Boulder City, Pahrump, or anywhere in between, you can find the best emergency cooling service solutions right here.
Our customers have long been happy with our cooling services, whether they're residential or for their business. Air conditioning should be handled by the pros and no one else.
That said, we always have the very best upfront pricing. There are plenty of financing options available.
Whether you need a replacement, if something is wrong with your air conditioning, or anything else, our team of professionals can handle these repairs for you to give you peace and comfort at home or in business.
Our company also offers the right price & financing to fit any pocket.
Emergency Air Conditioning Repair If Necessary
No one wants to have to worry about an emergency. That's especially true if it's the kind of thing that could have to do with your air conditioner.
That said, if your air conditioner breaks down in the Vegas summer, there's really no time to waste.
We are always ready! Replacement, installation, furnace work, cooling emergency help, HVAC repair, we can do it all on your schedule. That's our guarantee.
All The AC Repairs Services You'll Need
The above are common HVAC services.
However, they're far from all that we offer.
Indeed, sometimes the best "repair" for your air conditioning unit is to get a new one.
When we do our evaluation, we'll let you know if we believe that's your best course of action. Should that be the case, we'll walk you through all of your available options. That way, you'll find the best for you and your building.
As helpful as the tune-up can be, many of our clients opt for consistent air conditioner maintenance.  Once a year (or a schedule that works best for you), our professionals will look at your AC thoroughly, just to make sure that everything is working as it should. If something isn't, we can then repair it or even show you other options as well.
HVAC Systems Importance
Having an HVAC system is essential to have a comfortable life, especially during the hot season. That's why we are always grateful to help by serving folks just like yourself and doing our job with the knowledge and excellent skills to make everyone live a better life every day.
If you need help with your A/C or even just have a few questions, you can reach our dispatch center at (702) 935-1540.
Interesting Facts About A/C Repairs
AC repair in Vegas is a big business due to the extreme heat in the desert climate.
The average high temperature in Las Vegas is around 104.3 degrees Fahrenheit during the summer months (June/July/August).
AC repair services in Las Vegas can include anything from basic maintenance to full system replacements.
The cost of AC repair in Las Vegas can vary depending on the type of repair needed and the complexity of the job.
AC repair technicians in Las Vegas are trained to work on all types of air conditioning systems, from window units to central air systems.
Many AC repair services in Las Vegas offer 24-hour emergency repair services.
The most common types of AC repairs in Las Vegas include refrigerant leaks, thermostat malfunctions, and compressor issues.
Homeowners should always hire a licensed and insured AC repair technician in Las Vegas to ensure quality service.
Interesting Statistics About AC Repairs in Our Area
The average cost of an AC repair in Las Vegas is $350
Source: HomeAdvisor
Over 90% of Las Vegas residents use air conditioning
Source: Las Vegas Review Journal
The average cost of an AC installation in Las Vegas is $3,500
Source: HomeAdvisor
The average cost of an AC tune-up in Las Vegas is $80
Source: HomeAdvisor
The average cost of an AC filter change in Las Vegas is $50
Source: HomeAdvisor
The average cost of an AC duct cleaning in Las Vegas is $400
Source: HomeAdvisor
The average cost of an AC compressor replacement in Las Vegas is $1,700
Source: HomeAdvisor
The average cost of an AC condenser replacement in Las Vegas is $1,400
Source: HomeAdvisor