You've been planning a big summer event for months, and today's the day. You've laid everything out in your home, you've gotten all the food and drinks because you're expecting a big turnout. The doors open, and everyone's having a great time, then… suddenly, the air conditioning cuts out. One moment, it's cool, and the next minute, it's like the middle of the desert suddenly entered your home. You throw open windows and bring out the fans, but it's going to take more than that. That's where Air Pro Master comes in. Our air conditioning repair can be there fast.
24 / 7 AC Mending
There is always someone available to help at Air Pro Master. We say this quite a bit, it's prevalent in our advertising, social media and on our site, but people, for some reason, don't quite seem to believe this. We often get questions like: "I can really call you at 3 AM?" Yes, you can really call us at 3 AM. You can also call us at 5 AM, midnight, noon, 4 PM, and any other time that your air conditioner stops working. That' s what a 24/7 service means: we'll always be there to help you.
We do that for many reasons, not the least of which is that we know how important it is to have air conditioning that you can trust. Going without air conditioning during this time of year can be a genuine health hazard. Older folks, younger folks and pretty much everyone else benefits from staying out of the big desert heat. That's what we can provide at Air Pro Master: a way to stay cool for less. Our technicians can be out to you in a hurry to fix any problems that you might have.
Indeed, "same-day service" is something that we pride ourselves on. We know that you don't want to have to go for a long period of time without air conditioning. The longer you go without air conditioning, or at least properly working air conditioning, the more uncomfortable and miserable you're going to be. With our air conditioning repair, you can get your air conditioning back faster. Instead of having to deal with all kinds of screens, or changing clothes because you're sweating all of the time, you can get the sort of air conditioning that can make a house a home again.
Restoration is the First Option
We know that there are other air conditioning repairs that look at any problem and say: "geez, looks like you're going to have to buy a new air conditioner." we don't do that. Yes, we can help you to replace your unit, should it come to that. However, we believe that should be a last resort. Repair is always the first step, the first thing to try. Often, that's all it takes. Our technicians can come by your location, figure out what's wrong, and fix it in a brief period of time. Sure, that's not how every visit goes, but it is how many of them do.
We're always looking for more ways to save our customers money as well. If you go to our site, for example, you'll see that there are several "seasonal offers" available. These are ways that we can help our customers to save even more cash on the services that might be most useful to them. As of this writing, we still have the "Spring Tune-up" going. Even though it might not technically be spring, many of our customers' air conditioning units could use a tune-up. We can make sure that your AC is working right so that you don't have to worry about it cutting out on you when you least need it to do so. Our technicians can do everything in their power to keep it running its best.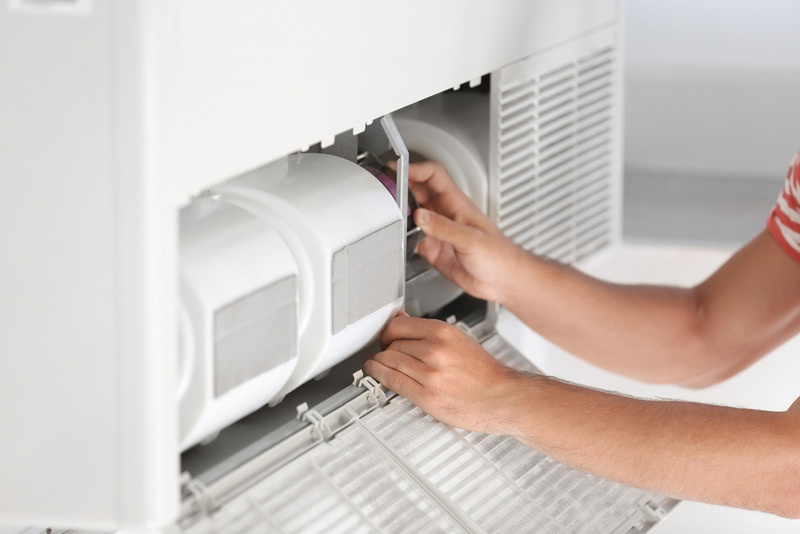 AC Technician who Works With You
At Air Pro Master, we're quite proud of our experience with air conditioners. We've worked on so many different kinds of models over the years. We've seen many different air conditioning manufacturers come and go, but we've always been able to service and repair essentially every kind of air conditioner. In the time we've been on this job, we've seen air conditioning technology increase dramatically. Some of the units we work today would've looked like something out of a science fiction or even fantasy movie just a few years ago.
We mention this because for people who have air conditioners that are more than ten years old, it might be time to get a new air conditioner. Often, these are the units our experts get called into work on the most. This makes sense: as they're the oldest units, they're the ones most likely to be breaking down or not working as the owner would hope. We can work on these units, fixing them until they'll run as well as they possibly can. Of course, that's the catch: we can make these old units run as well as they possibly can. Sometimes, that's not good enough.
Should a replacement be the right option for you, our AC repair technicians are trained to talk this over with you, to explore all of the options available. One thing to keep in mind about AC replacement: we only really ever suggest this to our clients when it will save them money in the long run. Specifically, when we say "the long run" we don't mean like, several years from now. We mean "the long run" as in "within the next few months." We say it in practically every blog at this point, but you shouldn't have to spend a lot of money on your air conditioning.
So, when it's time to get a new unit, one of our pros will sit down with you and go over your options. If you haven't bought an air conditioner in a long time, this might seem like a chore – but, practically every person who's gone a decade (or more) since they purchased an air conditioner has been pleasantly surprised by what new air conditioners are able to do. These air conditioners are better than ever before, in terms of power, strength, and longevity. Of course, they're also better than ever before in terms of saving you money, too.
Energy Efficiency Always
Due to technological advancements, these air conditioners are able to provide the same level of cool with far less power than prior models would. That means that they can save you money on your energy bills month by month. That's what we want to see, and it's what we help our customers to see, too. As they consume less electricity than other models, they can end up costing you less than what you would have to spend otherwise. Of course, through that, you won't have to sacrifice anything in terms of power or coldness, either. The truth is that, for many of our customers, getting a new air conditioner is an investment. It's an investment that will pay off, as you'll have better air conditioning for longer, and you'll have to spend less to do so.
Of course, while all of that may sound great, with Air Pro Master, it's always and forever a final resort. Our goal is to fix the air conditioner that you have in your home or commercial establishment right now. Only if that is impossible do we explore the possibility of getting you a new air conditioner. Between our maintenance options, our preventative scheduled tune-ups, and more, we have the knowledge and the experience to keep your air conditioners running as they should. To bring us in during an emergency or to explore options, call us at (702) 598-4174.