The image of Las Vegas is defined usually by a few incredible symbols: the strip, a casino, an incredible show, and so forth. Going to all of those is amazing, a once in a lifetime experience for tourists and a fun weekend division for those lucky enough to live here. However, one thing the pictures can't tell you: it's usually quite hot. Las Vegas is in, after all, the desert. It can get very hot here during the day, and not just in summer, either. That's why it's so important to have great air conditioning service all year long.
Vegas Temperatures Necessitate an AC
Even if you'd never stepped foot in Vegas in your life, you would be able to guess that the high temperatures here in the summer are blazing. Often, they're over 100 degrees and sometimes they're well over one hundred degrees and into the "110 and climbing" category. On those days, air conditioning isn't a "like to have," it's a "have to have." No matter how well you keep yourself hydrated, it's hard to feel good at all without having AC that you can count on. That being said, you don't want to wait until the temperatures are way over 100 to make sure your air conditioning works.
AC during fall and winter
Even when the calendar turns past summer, you may still need air conditioning during the Vegas days. In September, the average high temperature is 96 and in October it's 82. Since that's the average, you know there are going to be days that will be much hotter than that. You don't want to have an entire wasted day just because it's sweltering and your air conditioning isn't up to snuff.  Even during the winter months of December, January and February, there are some unseasonal days where the temperature rockets up. With air conditioning services from us, you'll have air conditioning service when and where you need it.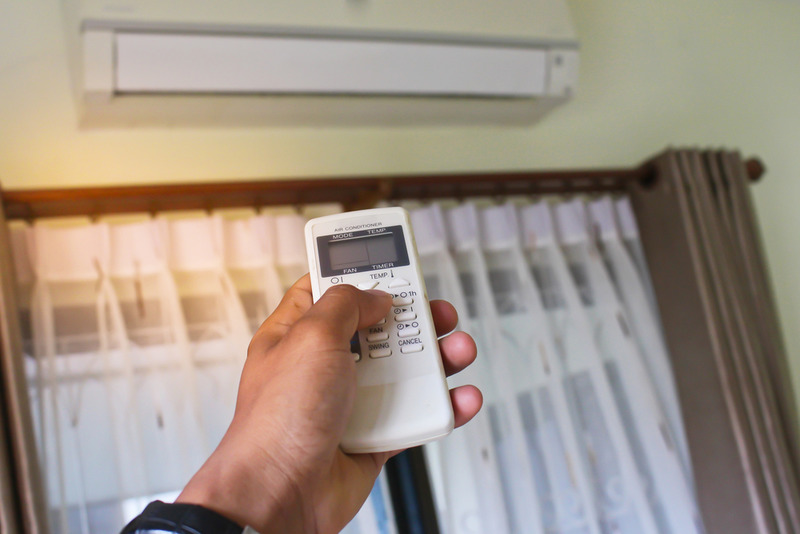 AC at Work
For most of us, when we think of "air conditioning," we think of being comfortable at home. However, during the hot days, air conditioning is just as important at the office, too. It's difficult to be productive when you're sweating through all of your clothes. Working with the windows open or a fan right in your face isn't a viable option for everyone. Besides, that doesn't work often anyway. As a business owner, you want employees that are happy and productive; because it's hard for them to be the latter if they aren't the former. Making sure that they have air conditioning they can rely on can help your company's bottom line.
Our AC Service
At Air Pro Master, we've been providing air conditioning service to the city for the last 13 years. In that time, we've helped so many people to get their air conditioning working as they would like. We're always glad to show people our portfolio, but really, our portfolio is the homes and commercial properties that we've given the air conditioning they were looking for.
We know that when your air conditioning breaks down, it can be difficult to focus on anything else, particularly on a hot day. Additionally, it's not like you can choose when your air conditioning will stop working. That means that it could go out at nine in the morning on a Monday in August, but it could also cease operations entirely in the middle of a sweltering night in May. That's why Air Pro Master is available at any time of day or night. With our 24 / 7 services, we can fix your air conditioning no matter what.
Sometimes, "fix your air conditioning" means that we install a new air conditioner. Usually, we're able to repair or fix the air conditioning that you already have, but that's not always the best or the most cost-effective option. No matter what the right course of action is, we'll walk you through all of the possible steps. With us by your side, you can make the best, most informed decision for your air conditioning needs.  In large part, that's due to our experience. We're fully certified on major HVAC units, like Goodman, Amana, and more.
We also know that more than ever, people are concerned about the environment. That's why it's been great to install so many new, energy efficient air conditioners. These air conditioners are great for the environment, but better still, they're great for your energy bill, too. You can get more cooling while spending less money. That's always in season, regardless of the weather. "Living in comfort" means "living in comfort financially," too. If you have any concerns about your air conditioning or are looking for a new air conditioner, don't hesitate to contact us at (702) 901-0900.