When your employees fall ill or they don't do their jobs as well as you might hope, what do you blame it on? It's natural to believe that if they all had colds at the same time, they got it from each other. Working closely together, it's natural for them to get sick. Or, you might think that someone who doesn't do their job as well as they had in the past is maybe just slacking off, going through something in their personal life, or any other factor. However, what you might want to consider is that it could be a result of the poor air quality. We can make your air to be exactly what you want it to be. That's why so many find Air Pro Master when they look for "commercial HVAC near me." 
All the Things That Can Lower Your Air Quality 
Low quality air can be more of a problem to your business than you might realize. The last thing anyone in your facility needs, whether they're co-workers, colleagues, supervisors, employees, clients, investors, customers, or anyone else is to have bad air around them. Our Air Pro Master HVAC experts can come to your facility and make sure everything is exactly as it should be.
The truth is that the air inside can be worse than the air outside. That might sound a bit ridiculous, but it's true. You don't have to take our word for it – you can listen to the EPA. They've gone on record as finding that indoor air pollutants are usually between two to five times worse than the ones outside. That might seem like a staggering number, but think about what's inside your facility. When you're in there, the air might not move all that much. If you're not near a window, then "fresh air" doesn't really enter into it. 
Of course, it could also be that there's something in your facility that lowers the air quality. Worse it could be something that you don't even know about. Maybe there's mold in a corner that hasn't been cleaned in some time. Perhaps there's chemicals that have spilled underneath something. Maybe there are germs or even viruses that have entered into your facility. These are all of the kinds of things that our service was made to get rid of.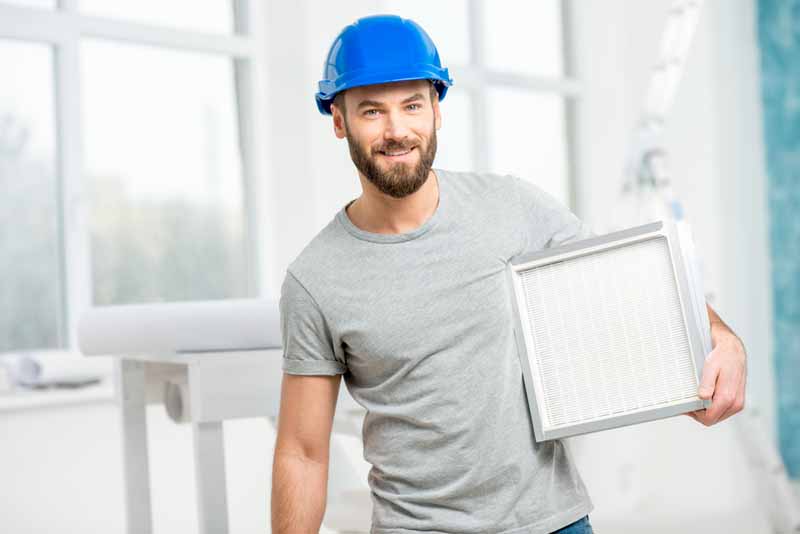 What You Want in "Commercial HVAC Near Me" Searches 
We know that when there's something wrong with your commercial facility's air, you don't exactly have time to waste. During this pandemic, the last thing you need is to make your facility less safe for those who might enter it. So, we can be there at any time. That's not a misprint. We can literally come to your facility at any time, 24/7/365. That's true whether there's a pandemic or anything else going on. 
When we come to your facility, we make sure that we're providing a safe service for our customers even during a pandemic. That means that we send small teams of capable professionals, always maintaining good social distancing. On top of that, they have gloves, hand sanitizer, masks and more, so that you never have to worry about you and yours. Everything is done as much as possible online, so that money doesn't have to change hands or anything like this. We know how difficult this period can be on you and your business, which is why we're doing our part to make it just a bit better. 
HVAC Before the Summer Truly Hits 
Regardless of whether there's a pandemic or not, the last thing you want is a facility where the AC isn't working in the summer. AC is a genuine life saver when the temperatures get up over 110 degrees. Should the pandemic continue that long, then it's even more important to have the AC unit working properly, as people are going to be stuck inside more often than not. We can make sure that your HVAC unit is working right at all times of the year, come what may. For a safer, better commercial HVAC near me you can message us through our site or call (702) 935-5622.