Air conditioners come in various models. Some of the top brands for air conditioners are Trane, Amana, Carrier, Lennox, and Rheem. Depending on your choice, each brand has a unique selling proposition that makes it stand out from the rest. Some brands are known for producing quality products, others are known for giving the best value for money. Other brands have an excellent warranty on their products while another brand produces AC that is efficient and reliable. Check the Pros and Cons of each model before making a purchase decision. In the event that you need to consult for purchase or repair your AC, then get in touch with Air Pro Master. We are a top company in Air conditioning repair.
What is the Cost of AC Mending
The exact cost of repairing your AC will depend on the specific areas that you would like serviced or replaced. If you have been doing periodic checks on your AC, say at least once every four months and  giving it a full service once a year, then the cost should be significantly lower. On average, the average cost for repair for your AC should be about USD 300. Breaking down this costs into individual component parts: Replacing a thermostat should start from USD 50, replacing a flame sensor should start from USD 200. Replacing the blower motor starts from USD 300. Replacing the gas valve starts from USD 700. Repairing and servicing these components is much cheaper and is a fraction of the cost of replacement.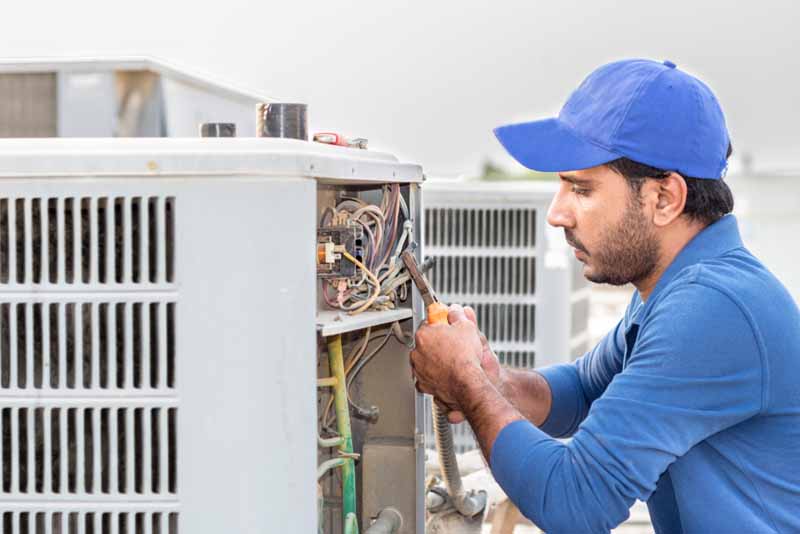 Which Specific Areas on my AC are Going to be Serviced
?
If you call a technician to come and service or repair your AC, then there are specific areas that are going to be fixed. Firstly, the technician will do a visual check on your AC to make sure that everything is functioning well. If there are sections that need to be rectified, or are broken then may be visually identified. Once this is done, the technician may proceed to check the air filters and see if they have trapped any dust or debris. They ought to be cleaned or replaced if broken.
The technician will also check the condensate drain and see if it has trapped excess moisture or if it has clogged. It needs to be unclogged and cleaned. The next area is to check the setting on the thermostat. The readings on the thermostat should match the actual temperature in the room. If these do not match, then it can be replaced or fixed depending on the severity of the case. The technician may also proceed to lubricate all the moving parts of the air condition to reduce friction and breakage or damage to the AC. This ensures that AC functions optimally.
Refrigerant
The refrigerant will also be checked to make sure that that it is enough to cool the air around when need arises. If this is not the case, the compressor may be damaged thus inhibiting optimal functioning of the system. The technician will also check this and replace or fix this and make sure it is enough.
Electricity connections on the AC will also be checked to make sure that they are duly protected. The technician will check and see if they pose any danger to the inhabitants if the house or complex. If they do, then they will have to be fixed or replaced depending on the severity of the case.
The technician will also check out the outlets of the system to ensure that they are free from clog. The outlets are important as they let out all the harmful gases and prevent them from building up. If they are clogged then this may pose a threat to the inhabitants of that area. The technician will unclog these and perform any repairs as may be deemed fit.
Let experts handle your Repairs
As it can be seen, conducting checks and repairs on AC systems is a laborious and technical process. It requires someone who is fully trained and can be able to handle it in a professional manner. As a building owner, the AC plays a critical role in regulating temperature within your building. Leaving this work to non-professionals may have disastrous consequences. At Air Pro Master, we are experts in Air conditioning repair. We would be delighted to help with all your AC repair needs. We pride ourselves with a team of professionals with years of experience in this industry.