Probably the last thing any person would want to deal with is – plumbing emergencies. Witnessing leaking pipes or drainage systems not working properly could be a total nightmare since not all of us have knowledge on how to repair such. Once we face these emergencies, we start to be thankful for the days we could use our bathroom or sink any time of the day without having any problems. Plumbing is considered to be one of the most important systems in every residential or commercial building. Having such a well-maintained plumbing system ensures that water can come and go to establishments properly. That is why we need to be ready as to which plumbing company we should contact to help us with our plumbing emergencies. 
You do not have to worry as Air Pro Master is always at your service. We offer the plumbing services that you need – name it and we can do it for you. We understand the inconvenience of having such emergencies or wanting something to be done related to plumbing, so we are committed to providing excellent plumbing service to make your life much easier. 
Our Service Provider Experts
Once you reach out to us for any plumbing service, rest assured we assign a plumbing expert for you. Our plumbers are professional, skilled, and well-experienced. They completed series of training which made them qualified in providing the services you need. Indeed, there is nothing that we cannot do for you. 
We encourage our customers to have a glimpse of our company's portfolio. Our portfolio is made up of the work we have completed successfully for both residential and commercial establishments and words from our happy, satisfied customers from the competitive plumbing company. With this being said, our plumbing experts have experienced providing services for both residential and commercial successfully. Therefore, the kind of establishment, whether it is big or small, is never going to be an issue for us. 
Air Pro Master plumber experts are always ready to rescue. We are just a call away and we can be 100% available for your needs. Worry not as we do not have any restrictions regarding our availability because we are literally ready to provide service day and night. Air Pro Master is available 24/7, so there is no need to panic having problems with your plumbing system late at night! This is how committed we are in providing quality services to our customers. 
You may think it is impossible being availabe 24/7, but we know that having problems with regards to plumbing needs to be addressed and repaired as soon 
as possible. If these are left unnoticed, it will create further damage that will cause a lot of inconvenience. Once you contact us, we will be right in front of your doorstep and fix what needs to be fixed promptly.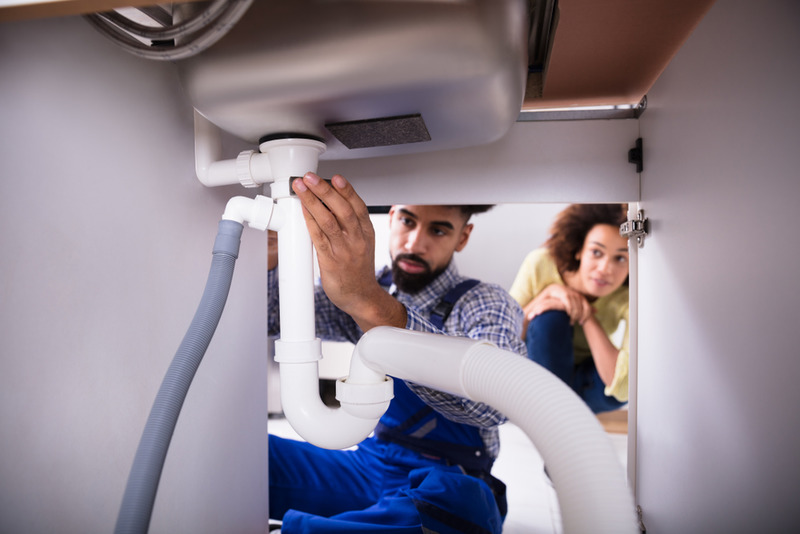 Services Offered by Waterworks Company
Air Pro Master offers a variety of plumbing services. Some include: 
Water Heater Repair/Installation 

Toilet Repair 

Pipe Repair 

Leaks 

Maintenance 
For more details, kindly see below descriptions. 
Water Heater Repair/Installation 
Everybody needs a water heater most especially if we want to have a warm, relaxing bath. However, once water heater might stop working, it may lead to some serious issues. This include leaks and carbon monoxide. It may sound complicated but our plumber experts can repair these and other water heater related issues that you may have. Furthermore, we can also perform a maintenance service to hinder causing problems in the near future. 
Toilet Repair 
Everyone wishes to have an access to a functioning toilet anytime, anywhere. Therefore, it is definitely a must to make sure that our toilet is fully functioning. Should problems arise such as clogged toilets, it needs to be repaired immediately. Our plumber experts will not waste any time and cause you further inconvenience, as we can assure you that requests or concerns will be repaired and addressed promptly. 
Pipe Repair 
The last thing you would ever want to see or hear are problems regarding the pipes. It sounds complex as you know you can not fix it on your own. Making sure to keep pipes running properly, Air Pro Master experts can do services such as extensive pipe repairs or re-piping. Leave your pipe problems with us and we will make sure you won't have anymore problems with it once fixed in the near future. 
Leaks 
At first glance, you may think it is just a simple problem you can fix on your own, but when it happens continuously, it could create water puddles. Plumbing is a task that is not for everyone and a leak may be an effect of a more serious issue. 
That's why we call for experts, such as the ones from Air Pro Master, to help us with it and eliminate causing further problems. 
What to Expect from Air Pro Master
As opposed with what we see from TVs and even online, our plumber experts come right into your doorstep in their neat and pressed uniform. Plumbers in uniform mean they went through a tedious process in order to be qualified as one. 
Plumbing can be quite messy, but in Air Pro Master, we make sure to provide a quality and clean service for you without having to worry about the mess after the work is done. We do not leave without making sure the job is successfully done and the area is clean as ever. This is part of our service and that is something that you truly deserve. 
Affordable Service
Maintaining and repairing the plumbing system is very important; however, not all people realize that. It is usually not part of our everyone's budget, that's why some would opt to do DIY and repair these by themselves, but it usually cause further serious problems. In Air Pro Master, we offer a variety of options to make sure that the cost meets the budget of our customers. We evaluate and once we plot the issue and provide an option, we guide you through the choices with different price points with payment plans to make sure these plumbing emergencies will be addressed and repaired. 
Air Pro Master, the plumbing company, is available 24/7. Do not hesitate to call us if you need our service or to ask further information about our services. Contact us at (702) 598-4174. We would love to hear from you and serve you to make your lives worry-free.