Finding the right AC repair Las Vegas NV company can be challenging. If you're new to selecting contractors to make improvements in your home, you could very easily lose sight of the top qualities of a skilled AC repair company.
The fact of the matter is – once your AC malfunctions, you'll need immediate assistance. This often puts stress on home and business owners who have to interview several contractors to repair their air conditioner.
Fortunately, if you don't know how to vet a quality AC repair contractor, you've come to the right place. Here are some ways you can be sure you'll receive the best assistance for your buck.
Check Online Reviews of AC Mending Companies
Online reviews are the lifeline of any business, nowadays. That includes air conditioner repair contractors. You can generally scout for online reviews to tell if a contractor is worth your hard-earned money and time.
For this reason, you should check the online reviews of any contractor you plan to do business with. This will help you avoid the disaster of working with the wrong contractor.
Call Prospective AC Mending Companies
Another way of vetting quality contractors is to call them. There are several fake AC repair companies that have Google listings. With a simple phone call, you should be able to distinguish real contractors from fraudulent ones.
To begin, legitimate AC repair contractors have designated staff to answer your inquiries or questions. If you call an AC repair company and you receive an answer from a sketchy individual, it's safe to say that you should avoid doing business with that individual.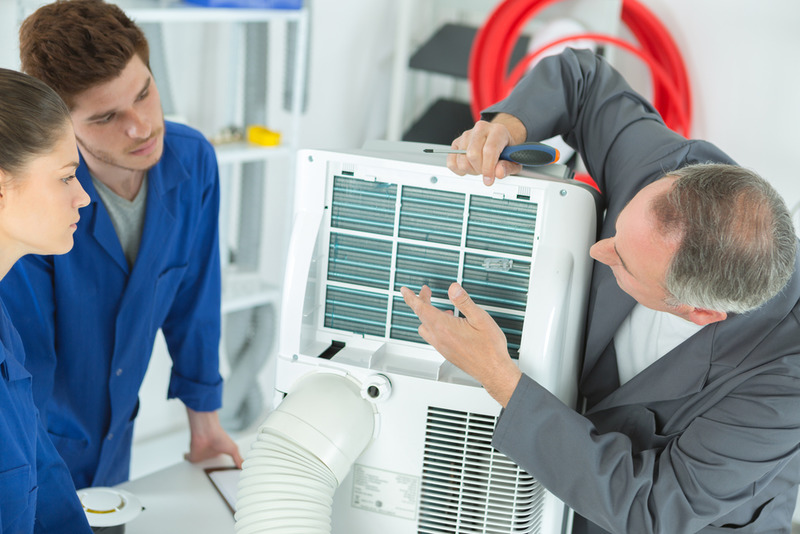 Ask AC Mending Companies for Testimonials
This is one of the most essential steps in hiring the right contractor when your AC unit goes down. Ultimately, any AC repair company will tell you that they provide wonderful services.
However, companies that readily provide testimonials are always to be trusted. Think about it. If you constantly provide great work, would you be proud and show it off? The same principle applies to AC repair companies.
Therefore, when calling a prospective contractor, ask for testimonials if they aren't already offered. 
Understand the Pricing of Companies
At the end of the day, you can only hire a contractor you can afford. Unfortunately, hiring an AC repair company is much more complicated than asking for an estimate. You could easily be charged for labor fees and other miscellaneous charges. 
To avoid falling into this trap, ask your prospective contractor to be upfront with their pricing. Otherwise, you could become just like thousands of other home and business owners and receive a substantial surprise once the final bill comes around.
It is important to note that legitimate AC repair companies are always upfront with their rates and won't put you through the hassle of hidden fees.
Always Check on the Contractor's Experience
Your air conditioner is a valuable part of your home or business. If your AC unit malfunctions, it's important to have it inspected and repaired by a seasoned professional. 
Under no circumstances do you want your AC unit serviced by an inexperienced contractor. Doing so can permanently damage your unit and possibly your home, resulting in thousands of dollars in other repair fees.
As a result, only work with AC Repair Las Vegas NV companies with at least 10 years of experience in their field. This way, you can receive peace of mind working with a true professional. 
Make Sure You Ask a Lot of Questions
During the vetting process, you should get a feel for what it's like to work with a prospective AC repair company. The only way you can do this is by asking a lot of questions in the preliminary stage of choosing a contractor.
For example, you should ask the following questions to realize if you'll be working with a quality air conditioner repair contractor.
Have you seen a problem like this before?

What's the best course of action for repair?

How much will I end up spending on this repair?
Asking these types of questions will make it possible for you to select one of the best AC repair Las Vegas NV companies. 
Check References
One of the last and equally important methods of choosing one of the top AC repair Las Vegas NV companies is to check their references. If you can speak to past or current clients of a prospective AC repair company, you will do yourself a favor in picking the right one.
This isn't an optional step, so you should do your due diligence in validating the references of any contractor you choose to work with. 
Give Us a Call Today!
Do you want to work with a reputed Las Vegas AC repair company? If so, give us a call at (702) 935-1540 to learn more about how we can help you.