Do you need quality AC repair services in Los Angeles? If so, you've come to the right place. We understand how difficult it is to find the best AC repair Los Angeles company.
If you are experiencing an issue with your air conditioner and are new to hiring a contractor, then it can be complicated knowing where to look for the best contractors in your area.
Luckily, Air Pro Master has done extensive work in Los Angeles for more than a decade. We have built a firm reputation as being a company that maintains exceptional qualities of customer service and satisfaction.
Therefore, if you want to find the best Los Angeles AC company, look no further than Air Pro Master. In any case, if you want to conduct your own search for quality HVAC contractors, then here is what to look for during your search.
Check the Reviews of the Best AC Mending
Online reviews are extremely helpful if you are conducting a search for any business. You can check these reviews to learn more about what others are saying about a particular business.
Luckily, it isn't difficult to find businesses with the best online reviews. On Google, the contractors with the best online reviews are ranked first on Google maps. Besides, it doesn't take much effort to type in a prospective contractor into the search bar and see their star rating and online reviews from Google.
It doesn't make much sense to do business with any contractor you didn't perform research on. Therefore, make sure you follow this tip to narrow down your search for qualified contractors that can truly help you.
Collect References from the Best AC Mending in Los Angeles
Like online reviews, references are valuable tools for home and business owners to use. You probably collected a reference from a potential hire as a business owner, and maybe you did the same for a pest control company for your home.
Overall, references help people hear from others about the good (or sometimes bad) work from another company. In your search for a quality HVAC company, you will need to collect references.
Normally, any company will provide their references readily when they are asked, or sometimes without you even asking. Hence, any contractor that hesitates to give you their references should be avoided.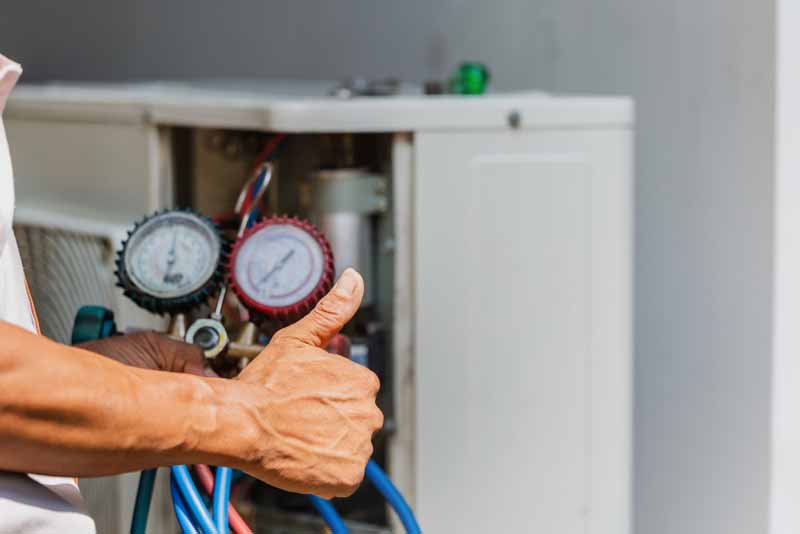 Look at the Testimonials from the Best AC Mending
Testimonials serve as both reviews and references and can commonly be found on a website. Testimonials are often short just like reviews, yet detailed and genuine like references.
Therefore, you can count on looking at testimonials to see just how a particular contractor helped another individual or business. What's more, is that testimonials can help you distinguish a quality contractor from another one?
For example, you can find several testimonials from our past customers on our websites. We provide these testimonials not only because we are proud of our work, but also because it helps give you greater insight into who we are as a company.
Verify the References of the Best AC Mending Los Angeles
Collecting references isn't the only thing you should do when searching for a quality contractor. It's much deeper than this. You'll also have to check and verify these references.
Oftentimes, many people just collect references and never check them. They believe that if a company gives them a reference, then it's good enough. In order to protect yourself from fraudulent companies, then you absolutely need to make sure that you are receiving real references.
Confirm Their BBB Rating
The Better Business Bureau (BBB) is the standard "vote of confidence" for businesses across the United States. Oftentimes, fraudulent contractors can forge their own online reviews.
They can also lie and create fake testimonials on their website. You would even be surprised that some will provide fake references that list family members instead of real customers.
Confirming the BBB rating of any contractor is one of the only ways you can be perfectly sure you are working with a true professional. If you want to find the best AC repair Los Angeles company.
Many people are fooled into believing that all contractors you find online are real and won't resort to underhanded methods of gaining new customers. This is certainly not true and is why the BBB was created in the first place.
Needless to say, hiring the wrong contractor could lead to unprecedented consequences for your home or business. With that said, what do you have to lose when checking the BBB rating of a contractor?
You never know what other fraudulent contractors have up their sleeves. Therefore, do the right thing in always checking the BBB of all prospective HVAC companies.
Check Their Pricing
Hiring a contractor, in most cases, can be expensive. Though, one of the worst things you can do is select the best AC Los Angeles company just to be surprised with the bill later.
Also, a lot of contractors have gained a notorious reputation for being disingenuous with their pricing. It isn't completely uncommon to be told you will be billed for a task to only be charged for something completely unrelated.
To save yourself the displeasure of experiencing these occurrences, you should check the pricing of any contractor you plan to work with. Make sure you are asking for full disclosure of their pricing with transparency.
Ask questions about if there are additional fees for menial tasks. Ask if they charge a flat fee or hourly rate. Not only will this keep you up to speed, but it will also help you to save money.
For example, if a contractor charges you extra for removing an air filter, you can perform this task yourself to save a few extra bucks. At the end of the day, you want to receive a bill that's in line with everything you talked about with your chosen contractor.
Ask Plenty of Questions
When conducting the interview process with the best AC repair Los Angeles company, you have to ask elaborate questions that will allow you to gain deeper insight into who they really are.
You should easily be able to tell apart experienced contractors from the rest of the pack. These individuals are well-versed in their field and will answer your questions with clarity and precision.
Be mindful to avoid contractors who have trouble answering detailed questions or reflecting on them. The best contractors know their field like the back of their hands.
Ask About Their Experience
As the best AC repair Los Angeles company, Air Pro Master has been in business since 2005. Not many horrible companies stay in business for 15 years as we have.
We take pride in using our massive expertise to assist our customers. If your prospective contractor has limited experience, make sure you walk away immediately.
Give Us a Call Today!
Finding the right HVAC contractor can be challenging if you don't know where to begin. This guide should help you discern the top qualities of an ideal selection. To learn more about how we can help you, give us a call at (702) 935-1540 for more information.