In these uncertain times, it's important to do as much as possible to keep your family safe. Everyone has been affected by the pandemic in some way. Those of us at Air Pro Master are doing everything we can to make sure that people can get the kind of HVAC repair in Las Vegas that they need to keep their home as safe as possible. When you're in self-quarantine, we can do quite a bit to make sure that you and those around you are as safe as possible. 
Protecting your Air 
Really, that's what our HVAC company does. We make sure that the air you have in your home is of as high quality as possible. Currently, that means making sure that we can lessen the possibilities that COVID-19 will enter your home. The virus can hang out in the air for a moment – if you've read the most recent numbers from the CDC, it's possible that the virus can last in the air for up to three hours. 
It's natural to think "do I really want to worry about my HVAC now?" That's reasonable, but it's important to keep in mind that even while we're in our homes practicing social distancing, the temperatures outside will keep getting warmer. As of this writing, it's spring. Soon, it will be summer. You don't want to have to go through an entire summer in Vegas without making sure that your HVAC unit is in as good of shape as possible. We can make it so that your system is trustworthy in multiple ways. 
One way to do that is to make sure that your air filters are up to date. When someone from Air Pro Master comes to your home, we can make sure that your filters are in as good of shape as possible. If necessary, we can recommend and then perform upgrades so that your filters are powerful as ever. There might not be a way to 100% keep the virus out of your home, but this is a real, tangible step that you can take to make your home that much safer.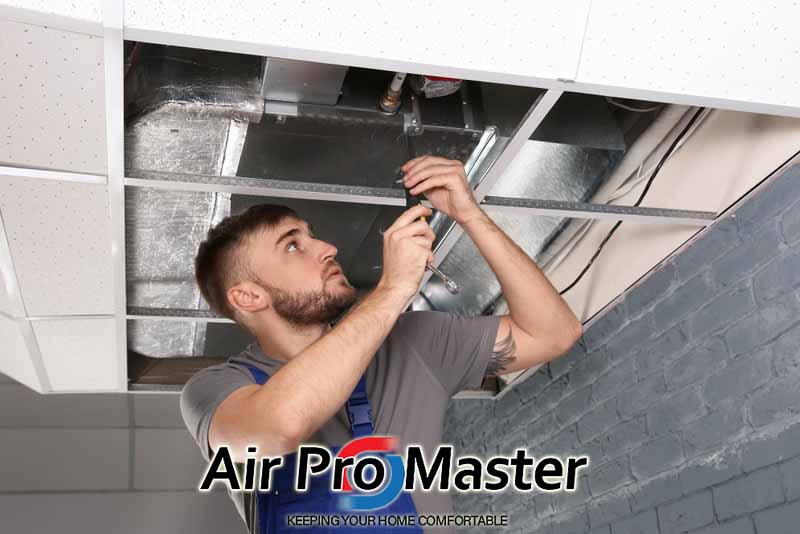 HVAC Repair in Las Vegas that Takes Responsibilities Seriously 
We know that in this current moment, you might be nervous about having people come to your home, even trained professionals. That's perfectly understandable. To that end, it's also why we do everything in our power to be as clean as possible. We always did, but in these current times, we go even that much further. 
So, when someone from Air Pro Master comes to your home to fix your HVAC unit, provide maintenance services, give it a once over, or anything else, you'll see that our pros are wearing gloves, are clean, touch as little as possible, and will maintain proper social distancing. That's important for the safety of our clients as well as our staff. By following these protocols and all others, we can ensure that your experience will be as safe as possible. 
UV 
Sometimes, there are some microorganisms that are small enough to pass even through filters for an HVAC unit. That's where UV disinfection systems come in. These systems make it possible to also filter out even those microorganisms as well. Unfortunately, airborne droplets containing infectious agents such as COVID-19 can remain suspended in the air for six minutes or longer. It's a longshot, but it's not impossible for the virus then to get swept up in an AC or heating unit and then be transmitted to someone. 
However, these UV units can keep that from happening. They can destroy these microbes before they cause any kind of problem to anyone. The truth is that these times are perilous and we're all in it together. Here at Air Pro Master, we're committed to making sure that you're as taken care of as possible, during a pandemic or any other time. We're still able to come to your home or office and give you the kind of service that you expect and deserve. If you'd like to talk about HVAC repair, or would like to know how our services could directly improve your home. Just give us a call at (702) 935-1540.