If there is one thing that every household must-have during the summer season, it would be a functioning air conditioner. It is a life-saver. Be mindful that the heat during this season is harmful to everyone's health. The best way to avoid illnesses is by keeping one's self comfortable and healthy by an air conditioner. The challenge is being unable to determine when it stops working or when it breaks down. Therefore, it is best to know companies who can help you when you face AC-related emergencies. AC service near me offers quality AC services to help make your lives comfortable during the hot season. 
Air Pro Master is open 24/7 to address your AC problems. We understand how important having a functioning air conditioner is. Therefore, we work the hardest to meet and exceed your expectations. Our company has been in business for more than 13 years, so there is nothing that we cannot do for you.  We have prepared a work portfolio to show you the work we have accomplished over the years. We encourage everyone to go through this document, so you can fully entrust your AC problems with us. Air Pro Master is proud to show the feedback of our satisfied customers. We hope to include you in one of our portfolios soon! 
Services Offered By AC Service 
Aside from AC maintenance and installation, we offer a wide variety of AC repair services to show our customers the work that we can do. The list below shows some of the AC services that we offer.
Air Filter Cleaning
Since an air conditioner filters dirty air, the collected dirt and dust can cause problems with the AC. It sometimes results in AC not cooling, or ice will build up. Therefore, during service, the technicians need to wash and clean the air filter.
AC Condenser and Coil Cleaning
The AC with collected dirt and dust can cause the unit to overheat. Thus, aside from the filter, the condenser needs to be cleaned and washed by the technician. On the other hand, the coil of a split-type AC needs cleaning as well.
Leakage Checking
Before checking leaks around the AC system, the technicians will clean the drain first to remove dirt and dust. The technicians ensure that they perform this to avoid possible leakage of AC in the future.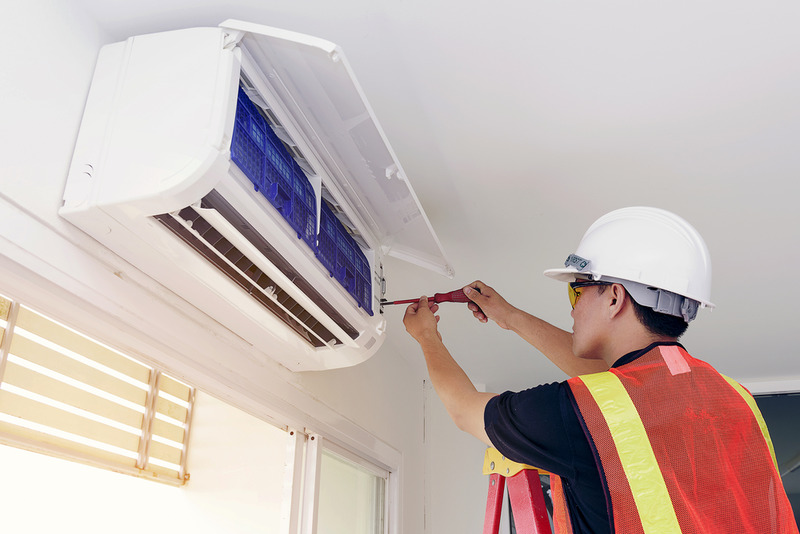 Coolant Level Checking
Technicians make sure that the coolant level is just at the right level, or else your AC stops cooling. When the freon is less, the temperature of the cooling coil decreases as well. Thus, it causes your AC to feel a little less cold.
Over-all Inspection
Among the rest of the AC services offered by Air Pro Master, this is the most important. This service inspects the features of the AC, such as motor, compressor, thermostat, and many more. Once finished, technicians will inform if there is a problem detected. If there is any, the technician will explain the process of possible repair or replacement. AC service near me will help you in every step of the process.
AC Installation 
With Air Pro Master, we have a professional assigned to guide you on every step: from choosing the right air conditioner to installing it. We will give you a recommendation as to what type of air conditioning unit is essential to your residential or commercial establishment. Once done, we will explain how to take good care of your AC unit better. 
CONTACT US TODAY!
AC service near me or Air Pro Master aims to provide the utmost convenience to our customers. We hire only the best of the best. Our professionals are experts in handling AC services since they are well-trained, experienced, and licensed. Our technicians go through a series of training to encourage them to learn more and grow more with our company. We care about our expert professionals too. 
Air Pro Master provides comprehensive pricing options to our customers. We know that AC problems come as a surprise, so we anticipate your needs. You can choose which pricing option fits your budget, and we ensure that you experience quality service despite your decision. The best part is, we do not have any hidden charges! What you see is what you get. We make sure to maintain communication with you, so you are well aware of the condition of your unit. If you wish to know more about how it works, you are free to do so. We would love to help you understand. 
AC service near me offers same-day service. As soon as you reach us, we are already available to provide quality service. We have been on your shoe, so we do not want to keep you waiting. We would love to help you experience the coolness of the air that you truly deserve. We are Air Pro Master, and we are always at your service. Call us at (702) 598-4174.