Air Pro Master offers complete plumbing services. Our plumbing services can help you in case of an emergency, as well as a host of other circumstances.  Your plumbing is critically important. It's difficult, if not impossible, to feel comfortable in a home without adequate plumbing. By that same token, employees, clients, customers, investors, and others won't want to spend time in a commercial establishment with substandard plumbing. At Air Pro Master, we provide the kind of plumbing service in Las Vegas and the surrounding areas deserve.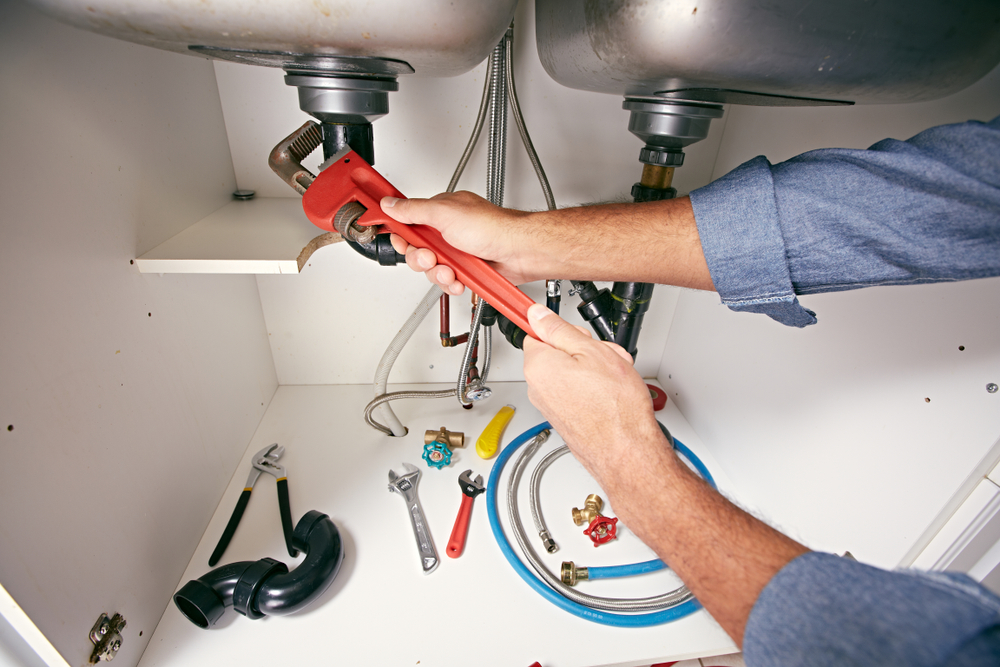 Our Plumbing Service
When you contact Air Pro Master, you get plumbing experts. These are not people who just started, or who have recently completed their training. We only use experienced, professional plumbers who have done the job before. That way, you can rest assured that you're getting the kind of plumbers who can do the right thing when you need it.
In fact, we encourage our customers to ask about our portfolio and to check our references. We're quite proud of the work we've done. Our portfolio is our legions of satisfied customers as well as the working plumbing in homes and commercial establishments all over the Vegas area. Plumbers from Air Pro Master have worked in residential and commercial places, so we know how to fit our plumbing to match your exact needs.
One of the most important things to keep in mind about our plumbers is that they're always available. You can contact us at any time. You'll notice we did not put quotation marks around that, nor is there an asterisk, letting the reader know that "any time" has certain restrictions. There are no restrictions as to when you can contact us. We can be there for you whenever you call, all day and all night. Air Pro Master is a 24/7 service, so we can be there when you need us.
True, most people don't call us at 3 AM to install a tankless water heater or something like that, but that service is invaluable when there's an emergency. During a plumbing emergency, there's literally no time to waste. Every second that goes by increases the possibility of further damage, and the more you might have to potential pay. That's why our plumbers are available at any time when you need them. We can arrive at your premises and fix the emergency promptly.
Some of the Plumbing Services that We Offer
Water heaters can be quite helpful, but when something goes wrong with them, it can cause all kinds of problems. Leaks and carbon monoxide are serious concerns when it comes to water heaters. At Air Pro Master, we can repair and fix any water heater issues that you may have. On top of that, we can also perform maintenance of your water heater, too. That way, we can head off any problems before they become out and out catastrophes.
Sometimes, the best way to repair a water heater is to install a new one. In those circumstances, we have several different kinds of water heaters to choose from, including new tankless water heaters. These water heaters are becoming more and more popular because they offer homeowners and business owners so much. They take up less space, they last for many years, and they're much safer than tank water heaters have been. We can walk you through the process so that you can get the right water heater for your needs.
A functioning toilet is quite important to the wellbeing of a home or office. Should your toilet need any repair, we can be there right away to fix it. First, we'll figure out what's wrong with the toilet, and then we'll promptly get to fixing it. From there, we can offer maintenance and more to keep your toilet running well into the future as well.
We can offer those same services for pipes as well. Pipes are complicated and complex. They're the kind of thing that you really don't want to tackle on your own. That's why our experts can come and fix your pipes quickly. That may mean doing extensive pipe repairs, but it may also mean re-piping as well. No matter the service you need with your pipes, we can get your pipes running properly.
In fact, we can help with basically anything in regards to your plumbing that leaks. Leaks can make a house less than a home or can make it far more difficult to be productive in a commercial setting. Instead of settling for leaks, or putting them off until another day, our plumbing professionals can be there in a very brief period of time to find the cause of the leak, fix it, and then provide maintenance to ensure that it doesn't happen again.
What to Expect from Air Pro Master
One stereotype that everyone knows is the "messy plumber." This is the kind of plumbing professional that could scarcely be called a "professional." You've probably seen it on TV, movies, or if you're especially unlucky, real-life: the plumber who wears ill-fitting clothes, or comes unprepared, or makes a mess. We would never let our plumbers be remotely similar to that. You deserve nothing less than the best when you contact Air Pro Master.
Our plumbers always come uniformed. That means that you'll be able to tell exactly who they are. These uniforms will be cleaned, pressed, and look utterly professional in every way. In fact, giving our plumbers their uniforms are a sign that they've passed through our difficult vetting process. Each of our plumbers has to go through quite a bit before they get the opportunity to work on your plumbing. So, when they get to wear that uniform, it's a big deal.
On top of that, we know that some plumbing services are content to fix your plumbing, but then leave a mess in your home or office. We see this as the bare minimum and something that's less than professional. So, when you contact us at Air Pro Master, we always clean up after repairs. This is more than just something we throw in; we see it as an extension of our job, one more responsibility. Proper clean up is just the end of a plumbing job, and we don't leave until we're done.
Affordable Plumbing
Plumbing is important, but it's not the kind of thing that people plan on spending plenty of money on. That's why we make sure to offer plumbing that regular people can afford. When our plumbers perform their assessment and let you know what your options are, they'll also tell you exactly what everything will cost. That's the free, comprehensive estimate. It will tell you what everything will cost so that there are no hidden, crazy fees later on. You should always know what the price of plumbing services will be before you decide to pay for them. That's what you can expect from us.
Additionally, we have financing offers, too. We want as many people to be able to afford plumbing as possible. With our different financing options available, more people can get the right plumbing than ever before. When you contact us, we'll sit down with you and layout each of your different plumbing options. We'll present you with various payment plans so that you can see which ones fit into your budget.
You shouldn't have to wait around all day and night for your plumbers. We're always on time and faster so that you can get on with your life. When you contact us, you can choose the time. We can also come as soon as possible if you like. For more information about plumbing from Air Pro Master, call (702) 598-4174.