The spread of the novel coronavirus hit the global economy by surprise. No businesses ever came prepared to face the pandemic. Established HVAC companies were not an exception. Due to the many restrictions, they struggled to keep the HVAC business afloat during this pandemic. Despite the many changes brought by COVID-19, the demand for HVAC contractors became high. The reason for this is that most of people stay home nowadays, and they use the HVAC system for a longer time than usual. Therefore, more issues tend to arise. There is no need to worry because the top-rated HVAC company during a pandemic is well-prepared to address your HVAC-related concerns. 
Air Pro Master is one of the essential businesses during the pandemic. Since we want our customers to continue living comfortably in their homes, we commit to providing the same services with safer preventive procedures to protect both customers and professionals from the spread of the deadly COVID-19. We continue to operate since we know how tough life is for everyone nowadays. Helping you repair what robs your convenience is our way of reaching out to you. 
Top-Rated HVAC Company During Pandemic Fights Against COVID-19 
During our operation, we would like you to know that we follow the guidelines given by the Centers for Disease and Control Prevention. In some cases, Air Pro Master offers the non-contact type of transaction to address your concern. However, there are times when a technician or professional badly needs to pay a visit and check the HVAC system themselves. 
Here are the preventive measures by the top-rated HVAC company during a pandemic for you to remember once repair or installation will take place in your household: 
If you do have any special requests for technicians to remember, please do not hesitate to tell us in advance. We would like you to know that we respect your ways, and we will abide wholeheartedly. 
As per the CDC, the minimum distance between two people is 6 feet apart. A space for the technician to work would be very much appreciated. If we do need the house owner's help during the process, we are willing to adjust accordingly. 
Kindly leave all doors going through the work area open for technicians to avoid touching surfaces. 
Please provide access to the handwashing station, so technicians can wash their hands whenever needed. We recommend them to do it very often to maintain clean hands while working. 
We recommend that you cover with plastic or tape the commonly touched surfaces, such as doorknobs, water taps, switches. You can do this, so you do not need to avoid them afterward. 
Our technicians will wear personal protective equipment or PPE throughout the entire operation. We suggest that you wear a face mask or face shield while communicating with our technicians.  
If it is not too much to ask and if it is possible, we recommend that you cover the work area with plastic to maintain distance and protection.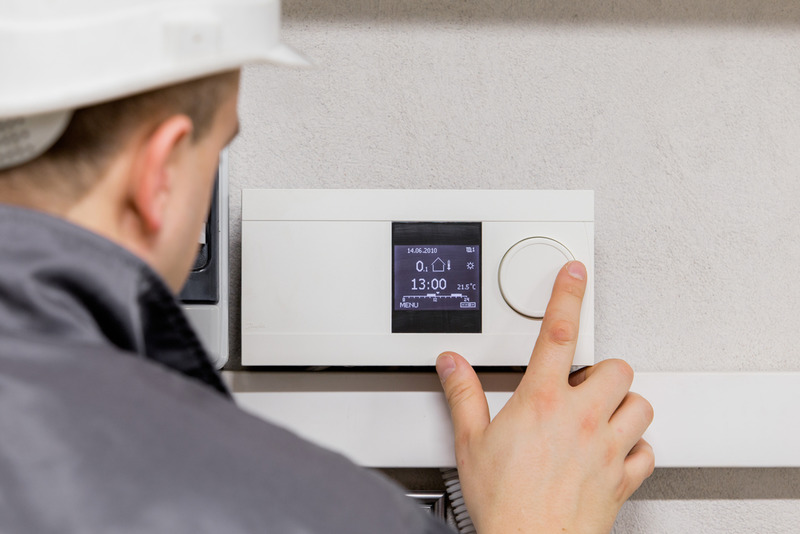 Hire Air Pro Master Now!
With or without the global crisis, Air Pro Master covers the HVAC needs and concerns. It has been in the industry for more than 13 years. It has proven to stand and thrive through the test of time. Since HVAC is a complicated system, only knowledgeable ones can help address and repair HVAC-related concerns. Air Pro Master professionals are well-trained, experienced, and competent. Therefore, there are no emergencies that they cannot handle. We only hire professionals who are experts and licensed to do this job. Moreover, professionals are also well-equipped with the use of modern technology to address concerns efficiently. 
HVAC stands for heating, ventilation, and air conditioning. Concerns relating to HVAC seem to be a burden because if one function stops working, the rest might be affected. That is why the top-rated HVAC company during pandemics is available 24/7 once you need help. Air Pro Master believes that there is no such thing as busy when it comes to HVAC emergencies. 
Air Pro Master offers the following HVAC services: 
Efficient installation of HVAC system

Full tune-up to determine and avoid possible HVAC problems 

Maintenance of HVAC system

Improve air quality indoor

Commercial HVAC services

Thermostat installation

Furnace cleaning and maintenance

Installation of ductless mini-split and ductwork 
HVAC System Repair
Having an HVAC system that needs repair can be quite overwhelming during a pandemic due to its cost. Hence, Air Pro Master provides a variety of pricing options for our customers. We ensure that you can continue to repair your HVAC and pay a reasonable amount at the same time. Before we start our operation, we communicate with you about the problem of your HVAC system and the solution as well. Rest assured that no matter what pricing option you choose, the quality service remains the same. 
Air Pro Master is no doubt the top-rated HVAC company during pandemics due to its resilience. We care about your HVAC system, but most of all, we care about your safety. Call (702) 935-1217 to hire Air Pro Master today!