A workplace without air conditioning is not a pleasant one, nor is it likely to be a productive one. Drenched in sweat, fanning themselves, leaning by windows… and that's when it's just in the high nineties. By the time the July 110 degree weather and perhaps even higher temperatures hit, it can be incredibly hard to work in the area without air conditioning. That's where Air Pro Master comes in. Our professionals can be there for you anytime. We can provide maintenance services that can make sure that your unit is running exactly as it should. There are a wide variety of benefits from having our tea, take care of your residential and commercial HVAC before summer really heats up.
Always there for your Home or Business
We know that you have so many different options for residential and commercial HVAC services. That's why we do everything we can to stand out amidst the rest. We can be there for you at any time, day or night. Since we are available 24/7, we can be there for you in case of an emergency striking whenever you need us to. Early in the morning? Fine. Late at night? We'll be there soon. Middle of the day during rush hour? We'll rush to your location. When you need Air Pro Master, we'll be there for you.
When our professionals arrive at your location in the case of an emergency, they'll quickly figure out what's wrong, and then present you with various options. They'll tell you exactly how they can fix it, as well as how they'll go about doing so. Then, they'll get right to work. That way you can go back to living or working in comfort. However, whenever possible, our Air Pro Master experts try to prevent emergencies. That's where our maintenance comes in. When they check on your unit, they can find if there are potential problems and then fix them before they become much worse.
Workplaces that Benefit from Commercial HVAC Preserving
Sometimes our customers will tell us something along the lines of  "oh well, we don't need HVAC maintenance at the moment, the unit is fine." However, that's kind of the point of maintenance: you want to get your HVAC checked out before you actually need help. That way we can find problems that might soon strike and fix them before they are actually an inconvenience. If it's been a year or more since you've had your HVAC checked out, we strongly recommend that you call our team when you can.
We've helped so many offices over the years to have effective air conditioning in the summer and heating in the winter. When we say "offices," we mean offices of so many different kinds of companies. From enormous offices with hundreds or more employees, as well as smaller offices from "mom and pop" stores, we're able to provide HVAC services to any size of office. Once we've installed it, we can perform maintenance to make sure it runs properly. If you have an HVAC unit already installed, we can check it out to make sure that it's always up and running to the highest standard.
However, our commercial HVAC services aren't limited to just offices. We've also been able to service many restaurants, hotels, shopping malls, and warehouses – no matter the business; we can provide the kind of HVAC that will make your employees, as well as your customers, feel comfortable. We know that a data center has different HVAC needs than a church and that a hotel is different from an industrial building. When you contact us for HVAC installation or maintenance, we can make sure that our services fit your location perfectly.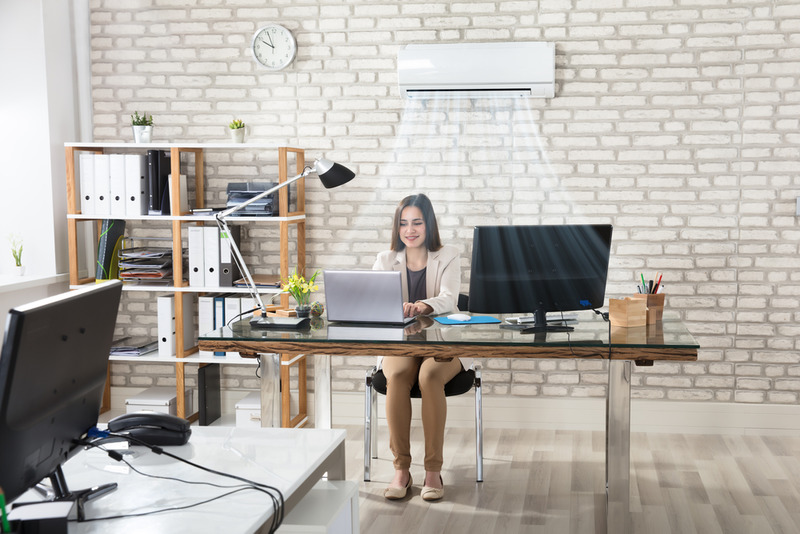 Bottom Line
We've already mentioned that having air conditioning and heating in your office can help your employees be more productive. We could throw in some studies here done by Ivy League universities, but this is pretty much common sense. After all, you know that someone really can't be all that productive if they're too hot or too cold while they do their job. However, that's just one of the ways that having a well-maintained HVAC unit can help your business's bottom line.
It can save quite a bit of money on your energy savings, too. Commercial HVAC units tend to be big and more expensive than residential ones. This makes sense, as many places of business are larger than most homes. So when these units break down they can be quite expensive to replace. This is why preventative maintenance is so important. We can fix them before they break down.  You know in business the value in being proactive, and not just waiting for something to happen. Instead of merely hoping that your HVAC unit doesn't break down, call us in to look over your HVAC and make sure that everything is running as it should.
It's important to note that your HVAC no longer working is only one of the reasons behind it possibly needing help. Most don't just stop working one day out of the blue. Instead, what happens more often than not is that they slowly wear down and stop working gradually over time. During that gradual decline, you (or the business owner) can end up losing money. You may find that your energy bills have skyrocketed, as you're now paying more for the same service you were getting (or worse). When you call us for maintenance, we can make sure that your HVAC is running, yes, but we can also make sure that your HVAC is running optimally. If it's running sub-optimally, you may already be losing money.
Extending the Lifespan
Every business, no matter how established and successful, is always looking to save money. Cutting costs and getting a great return on investment is important for any business of any size. This is one more area that HVAC maintenance comes into play. An HVAC unit that isn't properly maintained is far more likely to stop working sooner than one that is. Most HVAC units can run for significantly longer periods of time once they've gotten proper maintenance by our professionals. Preventing problems before they become catastrophes doesn't just make sure that they're working, but it also makes sure that their lifespan is longer.
After all, no business plans on buying a new HVAC unit often. That can put a dent into anyone's bottom line, so by making sure that your unit is in good conditions, you can get more use out of. That will save your company money both today and tomorrow.
Beyond Residential and Commercial HVAC
HVAC maintenance is just one of the many services that we provide. We can also install and repair your HVAC unit, too. Often, someone will call us when their HVAC isn't working as it should be. We'll come and figure out what's wrong. We give the customer different options as to how we can fix it. Sometimes, the best way to "fix it" is to replace it with a new HVAC unit. If that's the case, we'll lay out all of the different options so that they can pick the right one for their needs.
At Air Pro Master, we have a variety of financing options and discounts available. We've sat down and worked with so many businesses to figure out the right way to set up and maintain their HVAC. We can do the same for you when you call (702) 598-4174.