Like any place in the world, Las Vegas has its fair share of varying weather conditions that would require some form of heating or cooling system if you want to stay comfortable all year round. You can't just rely on a fireplace or an electric fan anymore at this day and age. Most homes and commercial buildings now have HVAC systems installed to make sure that the climate inside the structure can be easily controlled depending on the weather outside.  HVAC systems are already included in the blueprint of any structure that's about to be built and has seen consistent improvement in terms of efficiency throughout the years. But with any mechanical contraption, things are bound to break down from time to time. When that happens, you best believe that your first thought would be: "who's the best one to call when I need heating and cooling near me?"
The answer? Air Pro Master. 
Living in Las Vegas
You don't have to be living in the deserts of Nevada to know that a fully functional heating and cooling system is but a bare necessity of modern living. What with the advent of climate change, the summers are getting even warmer and easily topping off at more than a hundred degrees at the height of the season. Winters are no picnic either. Winters are getting colder with each passing year and with it comes the occasional snowstorm to boot. 
So if you haven't noticed yet, temperature control is the name of the game. 
Heating and Cooling Near Me
We at Air Pro Master have been in the business of heating and cooling in Las Vegas for more than a decade. Our extensive experience applies to both residential and commercial systems and includes:
Furnace and air conditioning maintenance

Heating system and air conditioning repair

AC and Heating replacement

Heating system and air conditioning installation

Air conditioning tune ups

Annual inspections

Pre-season preparations
Whatever you need, we've got you covered. Our team of highly skilled technicians are available to serve you 24/7. Whenever and whatever you need, you can trust the Air Pro Master will be there to get things up and running again.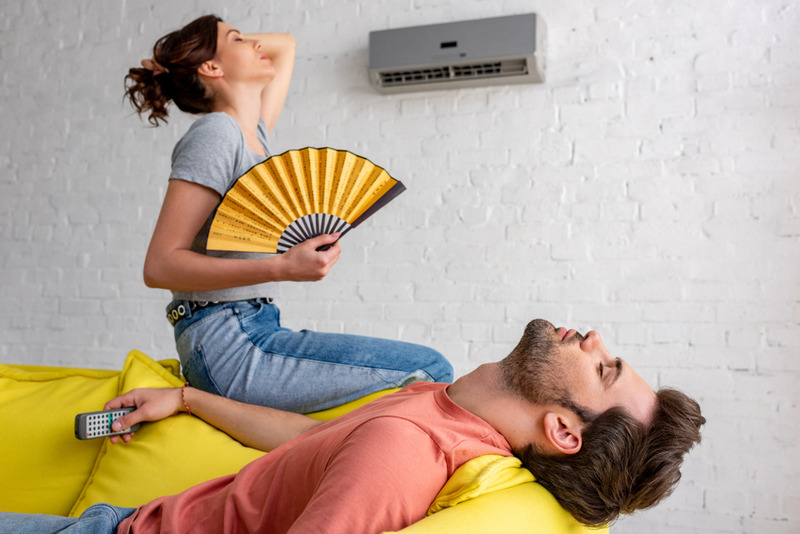 Don't Wait Until It's Too Late
We all know the saying if it ain't broke, don't fix it. While that's true for most things, it's not exactly how it goes for heating and cooling systems. In fact, if you want to prolong your heater and air conditioner's lifespans and maintain a reliable performance for the foreseeable future, then you need to make sure that they get regular tune ups and maintenance work done to keep them from breaking down in the height of summer or the dead of winter. 
Regular preventive maintenance not only guarantees that you won't be freezing to death on Christmas day or having a heat stroke while making lunch in the summer, it also lets you avoid having to shell out more money in the event of a major repair or a complete overhaul or replacement. More than that, these regular check ups keep your system in tip-top shape and running more efficiently which in turn also translates into more savings down the line. 
Air Pro Master Service Guarantee
Our technicians provide extensive and expert HVAC tune ups that include:
Cleaning condenser coils

Evaluating coolant levels

Lubricating moving parts

Thermostat calibration

Ductwork inspection

Tightening electrical connections

Evaluating blower motor performance
We run through a whole gamut of tests and inspections to make sure that we don't miss a beat and nip potential problems in the bud. We don't just come in blind and fix the first obvious problem. Our approach is holistic and systematic all the time, every time. That's quality service you can rely on. 
Residential vs. Commercial
It goes without saying that when something gets bigger in size, it gets that much more complicated to keep up with its needs. If your HVAC needs are just for an apartment or a single-detached home, then sure you can tell yourself "I can just call the local guy who does repair for heating and cooling  near me." And who knows, maybe you'll be satisfied with his services. Maybe. But commercial buildings that require heating and cooling systems that can handle heavier loads will definitely require the services of the best technicians Las Vegas has to offer. Let Air Pro Master's team of experts show you why we're the cream of the crop when it comes to heating and cooling systems in Las Vegas. 
Best of all though is that we also offer flexible financing options to lighten the load for you. Give us a call now and find out how we can come up with a plan to help you with your HVAC needs. Better hop to it though and do it soon. Winter is coming.