Not all of us get to realize the importance of an air conditioner, not until it stops working. We live our daily lives, thinking of our priorities and responsibilities. We ensure that we tick our lists for each day, and it suddenly gets interrupted once we observe that our home or office is getting incredibly hot. Because of this, we realize our air conditioner needs some TLC from time to time. It gets frustrating not to solve it through DIY repairs as it needs to be checked by AC professionals. Worry not as we have the best AC repair service – always ready to serve your needs. 
What is the best Air Conditioning repair service? Well, it is no other than – Air Pro Master. We have been in the industry for more than a decade. Thus, we are confident enough to say that we got you. Our company is committed to providing the best quality AC repair service. We understand how infuriating it is to have an AC emergency as it gets scorchingly hot in Vegas, especially during summer. Therefore, we give all that we can to help our dear customers get the comfortable life they truly deserve.
AC Mending Service: Most Common AC Problems Explained
The last thing we want you to experience is to leave you behind. It is your air conditioning unit; therefore, you have all the right to know what is going on. Here are the most common AC problems to observe to understand when you need to call for help by Air Pro Master, the best AC repair service: 
The air that the AC gives off is warm. 
It does not matter which kind of AC you have; once this happens, it probably means your filter is dirty. The dirty air blocks the airflow, and it freezes the condenser unit as well. That is why it gives off warm air. Therefore, it needs to be cleaned by AC professionals every month, preferably.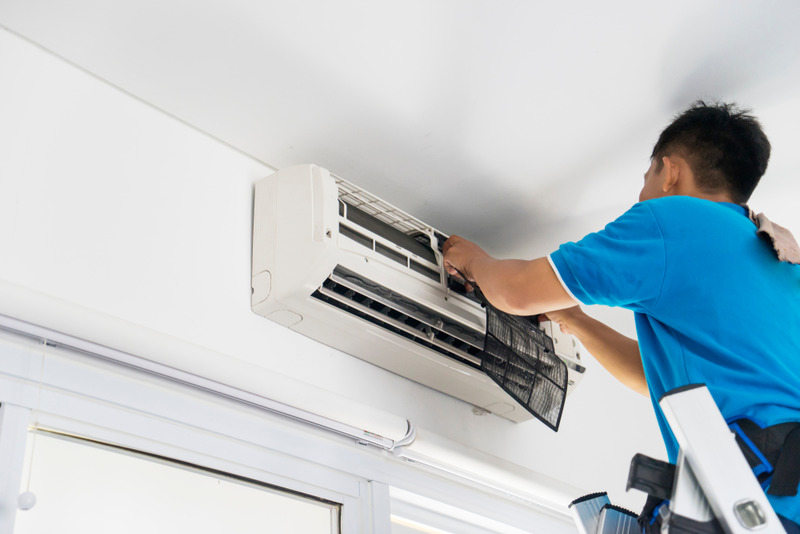 The AC freezes up.
There are many reasons why this happens. However, this is usually the result when: 
There is no sufficient flow of air. 

The outdoor temperature is low.

The levels of coolant are low. 

There is a problem with the blower motor.

The contractor is stuck.

The AC refrigerant is leaking. 
The AC temperature suddenly becomes inconsistent, or the AC stops working correctly when the coolant of the AC is leaking. Moreover, this usually results in: 
low AC efficiency

greater power consumption

coil freeze

compressor damage

not even cooling

The AC is suddenly making strange, weird noises.
An AC produces typically a sound that is not disturbing. That is why you will notice a sudden change when there is a problem with it. Each sound depicts a specific issue; therefore, an AC professional should check your unit to be sure. The sound could be due to any of the following: 
leaking of refrigerant

motor problem

compressor issue

electrical failure
AC's evaporator coil is freezing. 
The freezing happens due to the insufficient airflow received by the evaporator coil during the operation. Once it is frozen, it could result in AC freezing up, or the unit suddenly stops working. The dirty filters can cause the air to be blocked; therefore, filters should be checked and cleaned regularly by the AC professionals.
Services Offered By AC Mending 
As mentioned, Air Pro Master has been in AC repair service for the longest time; therefore, no matter what type of AC and whether it is a residential or commercial establishment, we can provide the best service for you. Our professional AC experts offer the following AC repair service: 
Motor AC problems

Freon Leaks

Capacitor Issues

Faulty Electrical Issues 

Other AC related problems depend on your AC unit
Air Pro Master: The Best Choice
The top two reasons why Air Pro Master is the best choice for AC repair service are: 
We have a team of AC professional experts. Our company does not just hire anyone. We ensure that the individual is licensed, experienced, and well-trained. Our company aims to continue this service to the next two hundred years; thus, we always keep our experts up-to-date to the latest AC repair innovation, technology, method, and such. The best part is, we have the most friendly, understanding, and courteous AC experts! You will never experience any problem with us, as we know from the heart, you are our priority.
We offer different pricing points to ensure your expenses fit your budget. Inspection is the first thing done by our AC experts. Once the cause of the problem is discovered, we lay down the possible options to fix your AC emergency with different pricing. Rest assured that our company never sacrifices no matter which option you choose, the quality of service. 
Air Pro Master aims to help your lives to be more convenient and comfortable. Therefore, we offer 24/7 same-day service to our customers! No matter what time of the day, we are ready to let you experience the quality service you deserve. Say goodbye to AC emergencies and call us at (702) 935-5622!