Do you need quality tankless water heater repair services? If so, you've come to the right place. At Air Pro Master, we specialize in troubleshooting both minor and major tankless water heater issues. We pride ourselves on developing accurate solutions to fix these issues on a long-term basis. Air Pro Master also realize that home and businesses value their tankless water heaters to save money each month on utility costs. We want to help you get your tankless water heater back up and running so you can keep more money in your pocket. To learn more about how we can service your tankless water heater, continue reading below for more information.
What is Tankless Water Heater Repair?
A tankless water heater is a water heater that provides an instantaneous and continuous flow of hot water on immediate demand. Most properties utilize a tank water heater. These mechanisms heat up a property's water supply, which is then gathered through a faucet. Tankless water heaters, on the other hand, instantly heats water that flows through its components without relying on the same methods as its older counterpart. Because of this, tankless water heaters are in high demand for modern consumers.
What are the Benefits of a Tankless Heater?
It's no secret that today's consumers now prefer to install a tankless water heater in their homes and business. There are a variety of benefits for having the installation done, such as:
Tankless water heaters instantly provide hot water when you need it.

Tankless water heaters work immediately, which means you can conserve more water each month.

It is efficient, meaning you can save more money each month.
The prospect of saving more money with an efficient system is an indisputable advantage for most property owners. This makes having a tankless water heater essential for individuals on a tight budget.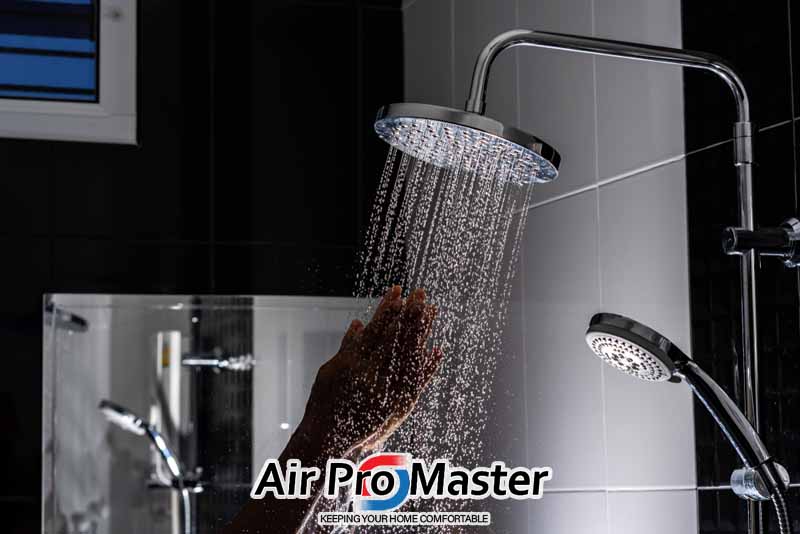 We are Experience in Tankless Water Heater Repair Services
A tankless water heater is a delicate system. On average, it can last up to 20 years. For this reason, making sure that your tankless water heater receives quality repair services is paramount. Otherwise, you could shorten the lifespan of your system. At Air Pro Master, we have more than a decade of experience servicing tankless water heaters. Our team of highly-experienced technicians has seen it all in regards to water heater system repairs. This means you can rely on us to restore your tankless water heater to its former condition every time you call us. 
We Provide 24/7 Tankless Water Heater Repair Services
Your tankless water heater isn't going to break down when you want it to or when it's convenient. Often, this system will fail at any time. As a result, you'll need to work with a company that's available any time this situation occurs.
Air Pro Master provides 24/7 emergency repair services. We are always available when you need us most. As a property or business owner, you're entitled to have instant hot water when you turn on a faucet.  We can help you get control of your tankless water heater as soon as possible after it malfunctions.
We Offer Long Term Repair Solutions
One of the most frustrating things about hiring a contractor for tankless water heater repair services is that your system can break down again shortly after you've received them.  Once you give us a call, we'll take a look at your system and provide a comprehensive analysis. Once this is done, we will completely repair your tankless water heater. This will help you receive a stellar performance from your system on a long-term basis so you can continue saving money.
We Provide Outstanding Customer Satisfaction
At Air Pro Master, we take pride in maintaining the highest standards of customer satisfaction. To put it simply, we will not stop until your tankless water heater repair is completely done to your satisfaction. 
Many companies will become reluctant to provide this type of service and even bill you for extra hours even if their work is unsatisfactory. When you hire us, you can expect quality work or we will continue working for you until your issue is solved.
You Can Expect Clear Communication
When you visit a mechanic to have your car fixed, do you ask questions? Are you trying to figure out the issue with your vehicle and understand the solution? Most people try to do this when their car is being fixed because they want to know for future reference what was wrong with their car.
In the same manner, you can expect us to keep you filled in on the issues of your tankless water heater in a language that's easy to understand. This is why we provide the best tankless water heater repair services in Las Vegas.
Give Us a Call Today!
Do you want to move forward with our repair services? If so, we would like for you to contact us today to schedule a visit so we can troubleshoot your tankless water heater.