Renters are usually reminded of annual system maintenance by their landlords, but unfortunately, homeowners tend to overlook these details. It is important to perform annual maintenance (sometimes twice a year with older models) on your HVAC unit in order to make sure they are running properly, and that these are not putting your family at risk with leaks or bad filters. With proper maintenance and care, you can guarantee they can keep running properly for as long as possible. Not convinced? Well, let us explain to you what exactly it is we at Air Pro perform these checks on, and why they are so important.
AC Preserving for Outdoor Units
As part of routine maintenance for an outdoor AC unit, we make sure to wipe it clean of dirt and remove any sort of debris that could potentially affect the system, such as leaves or twigs. Then we inspect the unit's refrigerant level to make sure it's right and then we adjust it if necessary. Once that's taken care of, we check the base pan for obstructions in the drainage system, which we clean through and remove accordingly. The fan motor and the fan blades should be checked for wear in case that any of these has to be replaced or lubricated (the latter is most usually the case), and a similar approach should be taken with the coil and cabinet. This straightforward process can guarantee an extended life for your AC unit.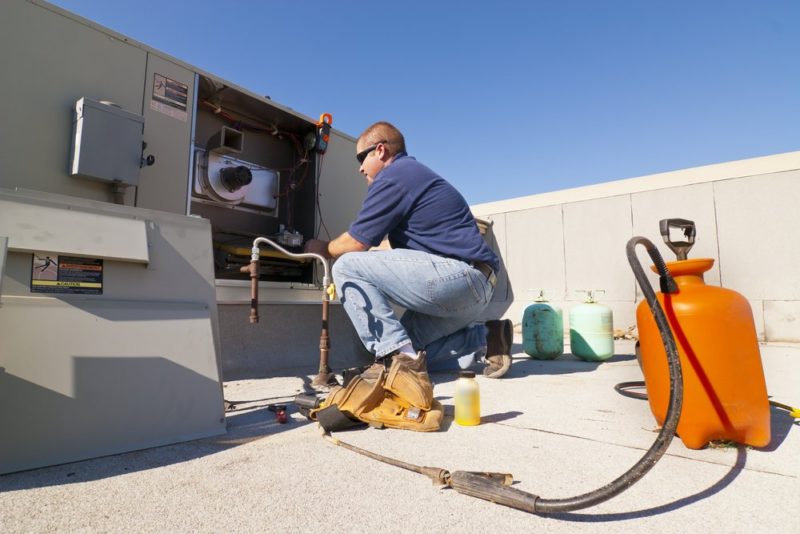 AC Preserving for Indoor Units
When it comes to indoor units, it is necessary to properly inspect the blower assembly, which includes the blower housing, the blower wheel, and the motor. We also check for any debris, such as lint or dust, in the combustion blower housing, the control box, and the general wiring. We make sure to inspect the evaporator coil, the drain pan, and the condensate drain lines, for these need to be cleaned regularly. Our team also checks for any potential gas leaks in the gas furnaces and the burner assembly, both of which we clean accordingly. Lastly, we make sure to clean or, if needed, replace the air filter to ensure proper ventilation and airflow into your home.
In older models, our maintenance is more thorough in order to make sure the system is still working properly free of risk. This includes lubricating the motor and inspecting the fan belt itself. In certain cases, it might be necessary to replace the fan belt. It is important to determine whether maintenance will help the unit keep going or if it might be time for a new one. Our team makes sure that the latter option remains a last resort.
Contact Air Pro Master
HVAC units are a significant investment. This is why you should be making an effort to protect it as long as possible. If you don't hire professionals to perform an annual check, these might end up taking preventable damage and stop working permanently. Annual HVAC maintenance allows for your units to live longer, saving you money in the process. If you think your HVAC unit is overdue for a regular check, call our Air Pro Master service at (702) 935-1540 and schedule your appointment.